Bill would expand FMLA rights to more employees
Posted January 20, 2020
In early December, United States Senator Elizabeth Warren (D-Mass.), member of the Senate Health, Education, Labor and Pensions Committee, and Representative Jan Schakowsky (D-Ill.) announced they will introduce the Part-Time Worker Bill of Rights Act. Text of the measure is not expected until January, but according to Senator Warren, for purposes of the FMLA, it would guarantee any employee who has worked for their employer for at least one year, access to federal leave protections.
Currently, employees are eligible for FMLA leave if they have worked for their employer for at least 12 months, have worked at least 1,250 hours in the 12 months before leave is to begin, and work at a location with at least 50 company employees within 75 miles. If the 2019 version is anything like the 2013 version, it would eliminate the 1,250-hours worked eligibility criteria. The 2019 version may have the same fate as the earlier one, but time will tell.
The bill did not, however, stop at the FMLA. It also includes the following:
Large employers would need to offer available hours to current, available, qualified part-time employees before hiring new employees or subcontractors. Those with more than 500 employees would need to compensate existing employees if they hire new employees instead of assigning new work to available, qualified, existing employees.
Employers would need to allow part-time workers to participate in their employers' pension plans. The legislation would amend the Employee Retirement Income Security Act of 1974 to give part-time employees who have worked at least 500 hours for two consecutive years access to retirement plans if they are offered by their employers to full-time workers.
As indicated, this bill has been tried before in Congress, but that was in 2013. With minimum wage increases and paid time off measures growing across the country, the federal government has more pressure to address this on a federal leave. The growing state provisions require employers to allow leave to more employees, not to mention having hiring restrictions, and this bill could add to the current challenges.
Many employers would prefer the flexibility to provide such benefits to their employees as their employees wish, not as dictated by law.
This article was written by Darlene M. Clabault, SHRM-CP, PHR, CLMS, of J. J. Keller & Associates, Inc.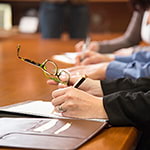 Looking for more on HR compliance?
Get the information and products you need to stay on top of industry changes and comply with regs.