NIOSH evaluates cannabis manufacturing facility, makes recommendations
Posted January 4, 2019
In a recent Health Hazard Evaluation program update, the National Institute for Occupational Safety and Health (NIOSH) discussed its evaluation of a medicinal cannabis manufacturing facility and subsequent recommendations for the employer.
In two inspections conducted in 2016 and 2017, investigators observed work practices related to cultivation, harvesting, processing, and decarboxylation; collected air and surface wipe samples; interviewed employees and conducted a health questionnaire; and used spirometry to test employees' lung function. Decarboxylation involves aging or applying heat to cannabis to remove the carboxyl group by releasing water and carbon dioxide, converting the THC-A, or tetrahydrocannabinolic acid, into tetrahydrocannabinol (THC), which is then used to make oils and other medical treatments.
Based on their findings, investigators recommended:
Installing local exhaust ventilation to reduce exposures during grinding operations;
Moving the decarboxylation process to a seldom occupied area in the facility to prevent unnecessary exposures to diacetyl and 2,3-pentanedione;
Limiting access to areas where higher exposure tasks occur;
Redesigning security doors to allow emergency egress without needing a badge to exit the facility;
Encouraging employees to report new or ongoing symptoms to both their personal healthcare provider and a designated health and safety representative within the workplace;
Developing and implementing a written respiratory protection program that meets the requirements of OSHA's respiratory protection standard;
Requiring employees to wear personal protective equipment during certain procedures; and
Talking to employees about whether workload could be better managed and how.
The use of cannabis for medical purposes is legal in 33 states, although laws vary on how it is produced and distributed.
---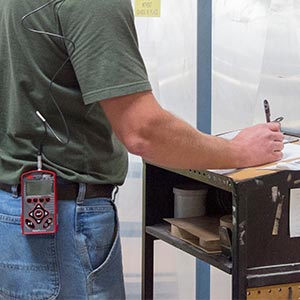 With J. J. Keller's J. J. Keller® Industrial Hygiene & Safety Services, provides a complete solution for minimizing workplace hazards that may result in injury, illness or affect the well-being of workers.
---
J. J. Keller's FREE Workplace SafetyClicks™ email newsletter brings quick-read safety and compliance news right to your email box.