What FMLA retaliation looks like
Posted January 23, 2017
The Family and Medical Leave Act (FMLA) prohibits you from interfering with an employee's leave rights, and from retaliating against an employee who exercises those rights. One employer tested the retaliation waters and ended up trying to defend its actions in court.
Case in point
An employee (let's call her Scarlet), worked for a company for 24 years, with a shining work record. During her tenure, her performance reviews reflected her hard work, and she was promoted a number of times.
During her 24th year with the company, Scarlet's eyesight began to deteriorate. After consulting with her optometrist, she elected to undergo surgery on both eyes, one eye at a time. The day before her scheduled surgery for the first eye, Scarlet was demoted and given a $3 per hour cut in pay.
Between the surgery for the first eye and the surgery for the second eye, Scarlet's doctor indicated that she needed to take off work on several occasions. During this time, Scarlet was demoted again and her salary was again decreased.
After both surgeries were done, Scarlet was released to return to work. On the day of her return, she learned that her former position had been given to a new hire, and she was demoted yet again. She also lost any seniority she had garnered over her tenure with the company.
In response, Scarlet told her supervisor that she would rather be laid off than take such a position beneath her experience level. (In Hollywood terms, she would likely say "As God as my witness, I will never be demoted again!") Her supervisor told her that the company would give her the layoff.
Despite what she said to her supervisor, she sued the company in part for retaliation under the FMLA. In court, she had as evidence her strong work record and performance reviews. Unless the company had another explanation for the demotions, a court could find that the employer did, indeed, retaliate against Scarlet because she exercised her FMLA leave rights.
At the time of this writing, the case was held over for trial for a jury to decide whether the company had a good business justification for the demotions.
In any case, the company ended up having to defend its actions in court, using valuable resources. If you are ever in a situation in which an employee who exercised his or her FMLA rights is to undergo a negative employment action, ensure that the reason has nothing to do with the FMLA leave, and you have evidence to support that argument.
This article was written by Darlene Clabault of J. J. Keller & Associates, Inc.
Razo v. Times, et al., No. 15-CV-03414, ND CA, 2016
---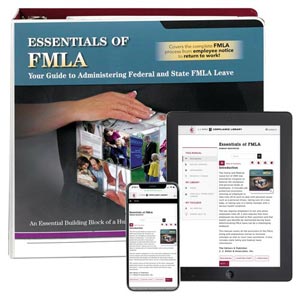 J. J. Keller's Essentials of FMLA manual helps HR pros understand and comply with the FMLA rules, control costs related to leave taken, and minimize the law's potential disruption to their organizations' operations.
---
J. J. Keller's FREE HRClicks™ email newsletter brings quick-read human resources-related news right to your email inbox.