Outgoing OSHA head shares thoughts on new rulemaking, tenure at the Agency
Posted January 17, 2017
As Jordan Barab, OSHA's acting assistant secretary of labor, prepares to leave his post this week, he shared his thoughts with J. J. Keller on OSHA's push to develop a new workplace violence prevention standard for the healthcare industry. On January 11, the Agency announced its intention to pursue the rulemaking. In December, OSHA issued a Request for Information on the topic, and will accept comments from the public until April 6, 2017.
Mr. Barab answered the following questions on the rulemaking and his tenure at OSHA:
Q: What would you like to tell us about this rulemaking?
A: Violence in the healthcare industry has been a problem forever. We've been working on it at OSHA for the last several decades. I personally was working on it a long time before that, when I represented healthcare workers. We've been doing quite a bit of outreach and compliance assistance; there's a lot of enforcement in the area, and I think it's very clear that more needs to be done. That this is a significant risk for healthcare workers and social service workers and that rulemaking is an appropriate way to go at this point.
Q: Will this rulemaking only apply to the healthcare industry, or do you foresee it applying to other industries as well?
A: At this point we're looking at healthcare and the social service sector. It's very early in the regulatory process, and obviously I'm not going to be here to follow this through, so we'll see what the evidence shows and what the next administration wants to do. That doesn't mean, however, that workplace violence isn't a problem in other industries. It's just that we probably won't go after rulemaking there, but will continue to address it through compliance assistance and through enforcement under the General Duty Clause.
Q: What convinced OSHA at this time that a workplace violence prevention standard for healthcare workers was necessary?
A: We keep seeing very startling statistics. Every year when the BLS issues its statistics, we continued to be surprised at the high level of workplace violence incidents in the healthcare and social service sector. We've also been doing a lot of enforcement in that area, but that's very limited. It's difficult to do enforcement under the General Duty Clause. Especially when you have a problem like this in a variety of different sectors and people. So we decided that generally, the regulatory process and a standard would make it a lot easier to protect workers in this area.
Q: What are the next steps in the rulemaking process?
A: The general process for rulemaking is a long period of collecting information, starting with the RFI [published in December 2016]. And we had a stakeholder meeting last week that was really useful and very interesting. We had a lot of workers there talking about their experiences. The next step once we decided to go forward based on the information we receive in the RFI would be to go to the SBREFFA process, the small business review, then to a proposal, and then to the final standard. Obviously all along the way there's an enormous opportunity for public input into the process.
Q: Do you envision any difficulties OSHA may have with the rulemaking as the new administration takes over?
A: I can't really say. I haven't talked to anybody in the new administration. I think it's obvious to everyone [that a rulemaking is needed]. Just look at the facts. It's obvious to anyone that there are a lot of workers being injured or killed due to workplace violence in healthcare. Obviously it's a workplace health and safety hazard. It falls under OSHA's purview and it's up to any administration to figure out how best to handle that issue. We've been going after it from a two-pronged approach, from compliance assistance as well as enforcement under the General Duty Clause. We felt that it's fairly clear now that additional measures need to be taken in the regulatory process, so we'll see if the new administration agrees with that or not.
Q: How many workers does OSHA expect this new standard to cover?
A: I'm not sure about that right now. It's really too early in the process. A lot of what goes on in the rulemaking process is determining exactly what the scope of the rule is going to be. For example, it could be we could just be covering hospitals; it could be we're covering social services to homecare as well. That will all be determined by the evidence we collect through the process.
Q: Does OSHA intend to increase the number of inspections conducted at healthcare facilities?
A: Well, first, I can't really say what OSHA intends to do, because I'm not going to be here. But not as a result of the rulemaking, certainly. I mean we have been fairly active as far as an enforcement program around workplace violence and I hope that will continue where necessary. But again, the rulemaking process kind of works on a separate track from enforcement process at this point.
Q: Do you anticipate this rulemaking will "kick start" other rules aimed at the healthcare industry, such as an ergonomics rule?
A: Well, I don't think there's a relationship. Obviously, there are a variety of problems in the healthcare industry, workplace violence… as you mentioned, ergonomics. There are infectious diseases issues. In fact, we're already working on an infectious disease standard. OSHA has very limited resources in terms of rulemaking. It's a very lengthy and resource intensive process. There's only so much we can do at any one time. We figured that infectious diseases, which we're already working on, and workplace violence were the two most important issues to address right now through the rulemaking process. So that's what we've prioritized.
Q: Any thoughts you'd like to share on your tenure at OSHA?
A: There are a number of things we're proud of. I think we've significantly improved protections for workers in the country. We've issued a number of new standards that will protect workers. Silica obviously. We just issued a beryllium standard. Walking working surfaces, cranes and derricks, a number of new recordkeeping standards, and a number of things that are in the pipeline. We've significantly enhanced our whistleblower program because it's really the core of health and safety to ensure that workers can exercise their rights without fear of retaliation. We've also done a lot in terms of making sure that temporary workers are protected. It's a swiftly growing sector of our economy and they deserve the same protections that permanent workers do. So we've increased our activity there both in terms of compliance assistance and enforcement. We've done a lot of outreach, and I think important outreach to vulnerable workers, immigrant workers, and others who don't have the same access necessarily to the kind of information and protections that other workers have. So I think we've made significant progress in making sure that they are aware of their rights under the law and that they can actually use those rights.
Q: Where do you see the Agency going in the next few years?
A: Well, the Agency operates based on the law. And the law says that workers have the right to have a safe workplace. No one, regardless of political party, wants workers to get hurt in the workplace. I think whoever takes over the Agency next time will also have that goal in mind and work hard to make sure that happens. There are differences in where emphasis is put, and that type of thing, but I think we all have the same goals in mind. So I'm optimistic.
---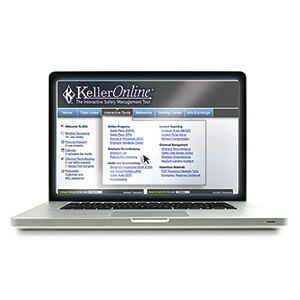 The KellerOnline® safety management tool is used by 19,000+ safety pros to help reduce accident rates and lower workers' comp costs.
---
J. J. Keller's FREE Workplace SafetyClicks™ email newsletter brings quick-read workplace safety and compliance news right to your email box.