Back to Press Releases
FOR IMMEDIATE RELEASE (August 11, 2016)
New Training Program Helps CMV Drivers Conduct Required Vehicle Inspections
J. J. Keller & Associates, Inc. Introduces Vehicle Inspections: Tractor Trailers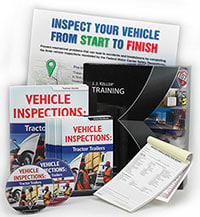 Neenah, WI — J. J. Keller & Associates, Inc., the nation's leading provider of safety and regulatory compliance solutions, has introduced Vehicle Inspections: Tractor Trailers. This new training program gives commercial motor vehicle drivers a comprehensive, streamlined examination of required inspections and explains why performing the inspections can prevent costly breakdowns.
Using advanced video techniques and technology, Vehicle Inspections: Tractor Trailers shows a standard vehicle inspection from the driver's perspective. Enhanced resolution provides a detailed view of complex parts. The program includes two bonus videos, covering intermodal chassis and refrigerated trailers.
The training teaches drivers how to conduct thorough pre-trip inspections, when and how on-the-road inspections must be done, how to conduct proper post-trip inspections, when DVIRs are required and how to complete them, and the importance of using the same inspection routine every time.
According to Tom Bray, lead transportation editor at J. J. Keller, "A company's maintenance practices ensure that their drivers have safe equipment. But it's up to their drivers to make sure the equipment remains in top condition, which means they must know how to do a proper inspection. J. J. Keller's new training program will help ensure a thorough, efficient inspection process so no critical areas are missed."
Vehicle Inspections: Tractor Trailers will be available in mid-August on DVD, tablet-compatible Pay Per View and Online Course, and Video Training Book — a new, portable format that puts video-based training directly into employees' hands, with no internet connection required.
Visit JJKeller.com for more information.
About J. J. Keller & Associates, Inc.
Since its beginning as a one-man consulting firm in 1953, J. J. Keller & Associates, Inc. has grown to become the most respected name in safety and regulatory compliance. Now over 1,400 associates strong, J. J. Keller serves over 560,000 customers — including over 90% of the Fortune 1000® companies. The company's subject-matter expertise spans nearly 1,500 topics, and its diverse solutions include ELogs and mobile technology; training via online courses, streaming video or DVD; online management tools; managed services; consulting services; online and print publications; forms and supplies.
Transportation professionals rely on J. J. Keller in-house expertise and wide selection of products and services to reduce risk and improve regulatory compliance, performance management and operational efficiency. For more information, visit JJKeller.com.
For more information, contact:
Mary Borsecnik
Corporate Marketing Communications Specialist
J. J. Keller & Associates, Inc.
1-800-843-3174, ext. 7050
Email: mborsecnik@jjkeller.com