Back to Press Releases
FOR IMMEDIATE RELEASE (October 22, 2019)
New Service Helps Carriers Immediately Identify High-Risk Drivers
J.J. Keller & Associates, Inc. expands its driver qualification services with new MVR Monitoring Service.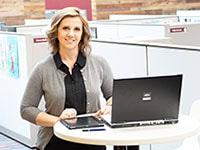 Neenah, WI - The sooner carriers are aware of their drivers' citations, suspensions, violations or other negative driving events, the sooner they can take action to correct the behavior.
To provide carriers with this continuous monitoring of drivers' records, J.J. Keller & Associates, Inc. has introduced the MVR Monitoring Service.
"Instead of fleet managers having to wait for an annual MVR pull to find out about a driver's high-risk driving behavior, we can let them know right away," said Shaun Gunderson, vice president of managed services at J.J. Keller. "This enables fleet managers to remove unsafe drivers from the road and address the behavior before a serious violation or accident occurs."
The MVR Monitoring Service continually monitors drivers' records for negative events, such as alcohol and drug violations, illegal maneuvers, and speeding. When one of these events occurs, a dedicated J.J. Keller® Compliance Specialist notifies the carrier, recommends corrective action steps for the driver, and enrolls that driver in the appropriate J.J. Keller® online course to provide immediate corrective action training.
"Not only is the MVR Monitoring Service ideal for monitoring regulated and non-regulated drivers, it also uncovers citations drivers accrue when operating their personal vehicles," added Gunderson.
For more information about J.J. Keller's MVR Monitoring Service, visit JJKeller.com/MVRmonitoring or call 888-473-4638.
About J. J. Keller & Associates, Inc.
J. J. Keller & Associates, Inc. is the most respected name in safety and regulatory compliance. Since its beginning as a one-man consulting firm in 1953, the company has grown to over 1,400 associates serving more than 600,000 customers — including over 90% of the Fortune 1000® companies. With subject-matter expertise spanning a multitude of industries and regulatory agencies, the company offers consulting and managed services for fleet and transportation, workplace safety and environmental, and human resources. In addition to these professional services, J. J. Keller also offers electronic logging devices, training, online management tools, publications, and forms and supplies. For more information on how to reduce risk and improve regulatory compliance, visit JJKeller.com.
For more information, contact: