Back to Press Releases
FOR IMMEDIATE RELEASE (October 16, 2019)
New Service Ensures Fleets Always Have the Proper Operating Authority
J.J. Keller® DOT Authority Monitoring Service protects fleets from operating illegally by tracking, filing, and renewing their credentials.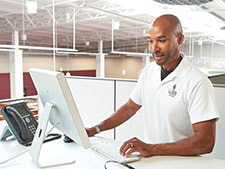 Neenah, WI - Thousands of new entrants join the transport industry each month, and they're required by the FMCSA to have the proper authority to operate legally. Once established, these fleets must renew their credentials regularly. But the challenge is knowing what's required and keeping track of when to renew.
To help new and existing fleets ensure they always have the proper authority — and make sure their authority and credentials are renewed on time — J.J. Keller & Associates, Inc. introduced the DOT Authority Monitoring Service.
"Our team of Compliance Specialists will help new fleets establish the proper authority, and help all fleets continuously monitor their authority, notify them of any new or updated filings, make sure their applications are filed accurately, and give them a monthly report of their operating status," said Shaun Gunderson, vice president of managed services at J.J. Keller. "This includes registering MC and USDOT numbers, renewing MCS-150 and UCR filings, and verifying proper insurance and BOC-3 designate."
According to Gunderson, the task of determining the FMCSA-required operating credentials can be confusing for fleets. And tracking renewal dates that take place annually or biennially often fall through the cracks. The penalties for non-compliance can be significant if a fleet is found guilty of operating illegally.
"This service really takes the complexity and hassle off the fleet's hands," Gunderson added. "It's priced at $39.99 per month, which includes the cost of UCR filing and MCS-150 update, so fleets pay less for this bundled service than buying the services individually."
For additional information about the J.J. Keller® DOT Authority Monitoring Service call 888-601-2017 or visit JJKeller.com/DOTauthority.
About J. J. Keller & Associates, Inc.
J. J. Keller & Associates, Inc. is the most respected name in safety and regulatory compliance. Since its beginning as a one-man consulting firm in 1953, the company has grown to over 1,400 associates serving more than 600,000 customers — including over 90% of the Fortune 1000® companies. With subject-matter expertise spanning a multitude of industries and regulatory agencies, the company offers consulting and managed services for fleet and transportation, workplace safety and environmental, and human resources. In addition to these professional services, J. J. Keller also offers electronic logging devices, training, online management tools, publications, and forms and supplies. For more information on how to reduce risk and improve regulatory compliance, visit JJKeller.com
For more information, contact: