Back to Press Releases
FOR IMMEDIATE RELEASE (September 20, 2017)
New Program Helps Fleets Meet the ELD Mandate Deadline
J. J. Keller & Associates, Inc. Introduces the J. J. Keller® ELD Reserve It Plan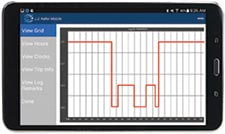 Neenah, WI - Fleets waiting until closer to the December 18, 2017, ELD mandate deadline to make the transition to electronic logging devices have a new way to ensure they'll be compliant in time.
J. J. Keller & Associates, Inc. has introduced the J. J. Keller® ELD Reserve It Plan, which enables fleets to reserve J. J. Keller® ELDs with guaranteed shipment between November 1-10, 2017, and zero service fees until January 2018. The offer runs through October 31, 2017.
"Over 50 percent of the fleets we surveyed are waiting until November or December to switch to ELDs, or they're undecided," said Tom Reader, director of marketing at J. J. Keller & Associates, Inc. "We created the J. J. Keller® ELD Reserve It Plan to get fleets everything they need in time to make the switch and avoid violations from being out of compliance with the mandate. The fourth quarter is already a busy one for most fleets and it's easy for things to fall through the cracks."
J. J. Keller® ELDs, which are on the FMCSA's ELD registry, are compliant with the ELD rule and work with all vehicle classes. They're also part of J. J. Keller's Encompass® Fleet Management System with ELogs, which includes an online dashboard for Hours of Service compliance, an ELog app that's compatible with most smart devices, and service options ranging from stand-alone ELogs to full performance management.
For additional information about the J. J. Keller® ELD Reserve It Plan, call 855-693-5338 or visit JJKeller.com/ReserveELDs.
About J. J. Keller & Associates, Inc.
Since its beginning as a one-man consulting firm in 1953, J. J. Keller & Associates, Inc. has grown to become the most respected name in safety and regulatory compliance. Now over 1,400 associates strong, J. J. Keller serves over 560,000 customers — including over 90% of the Fortune 1000® companies. The company's subject-matter expertise spans nearly 1,500 topics, and its diverse solutions include ELogs and mobile technology; training via online courses, streaming video or DVD; online management tools; managed services; consulting services; online and print publications; forms and supplies.
Transportation professionals rely on J. J. Keller's in-house expertise and wide selection of products and services to reduce risk and improve regulatory compliance, performance management, and operational efficiency. For more information, visit JJKeller.com.
For more information, contact:
Mary Borsecnik
Corporate Marketing Communications Specialist
J. J. Keller & Associates, Inc.
1-800-843-3174, ext. 7050
Email: mborsecnik@jjkeller.com