Back to Press Releases
FOR IMMEDIATE RELEASE (December 5, 2018)
New Online Training Helps Protect Hazardous Waste Site Workers, Meet OSHA Requirements
J.J. Keller Releases HAZWOPER 40-Hour Initial Training: General Waste Site Workers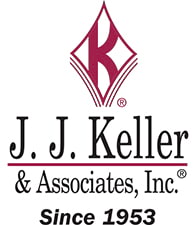 Neenah, WI - Hazardous substance releases can cause a wide range of immediate and chronic health effects, as well as lead to fires, explosions and toxic atmospheres. To help protect hazardous waste site workers from these dangers, J.J. Keller has developed its HAZWOPER 40-Hour Initial Training: General Waste Site Workers.
OSHA requires that general waste site workers (such as equipment operators, general laborers and supervisory personnel) engaged in hazardous substance removal or other activities that expose them to hazardous substances and health hazards receive 40 hours of initial classroom instruction and a minimum of three days of actual field experience under the supervision of a trained, experienced supervisor.
"Cleaning up uncontrolled hazardous waste sites is dangerous business," said Tricia Hodkiewicz, subject-matter expert at J.J. Keller & Associates, Inc. "No matter how large or small the cleanup operation, effective training provides workers with the critical knowledge and skills they need to better control site hazards and reduce the risk of injuries and illnesses."
The HAZWOPER: 40-Hour Initial Training: General Waste Site Workers curriculum consists of 20 online courses:
Overview for Waste Site Workers
Health & Physical Hazards
Chemical Fundamentals
Written HAZWOPER Plans & Programs
Medical Program
Exposure Monitoring & Sampling
Site Control Measures
Personal Protective Equipment & Clothing
Respiratory Protection
Decontamination
HazCom, Hazmat, & Hazardous Waste
Handling & Shipping Drums/Containers
Hazardous Substance Recognition & Identification
Emergency Response & Post-Emergency Response Procedures
Fire Prevention & Protection
Emergency & Post-Emergency
Confined Spaces
Temperature Extremes
Radiation & Biological Exposures
Electrical Safety & Lockout/Tagout
To learn more, visit demo.JJKellertraining.com/HAZWOPER.
About J.J. Keller & Associates, Inc.
Since its beginning as a one-man consulting firm in 1953, J.J. Keller & Associates, Inc. has grown to become the most respected name in safety and regulatory compliance. Now over 1,400 associates strong, J.J. Keller serves over 600,000 customers — including over 90% of the Fortune 1000® companies. The company's subject-matter expertise spans nearly 1,500 topics, and its diverse solutions include ELogs and mobile technology; training via online courses, streaming video or DVD; online management tools; managed services; consulting services; online and print publications; forms and supplies.
Safety professionals rely on J.J. Keller's in-house expertise and wide selection of products and services to reduce risk and improve regulatory compliance, performance management, and operational efficiency. For more information, visit www.jjkeller.com.
For more information, contact: