Back to Press Releases
FOR IMMEDIATE RELEASE (October 12, 2021)
New J. J. Keller Service Helps Companies Manage Chemical Compliance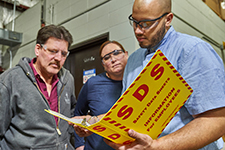 Neenah, WI - Year in and year out, Hazard Communication (HazCom) is one of OSHA's most frequently cited standards, with 3,199 violations in FY 2020 alone, resulting in $2,719,806 in penalties. The standard requires companies to maintain a program that informs employees of the chemical hazards they're exposed to on the job. To make compliance easier, J. J. Keller & Associates, Inc. has introduced its Chemical Management Service.
"An effective HazCom safety program protects your employees from harmful chemicals, and your company from violations, fines and legal liability," said Shaun Gunderson, vice president of managed services at J. J. Keller. "Our new service makes managing your chemicals in compliance with the HazCom standard so much easier."
J. J. Keller's Chemical Management Service covers all HazCom areas, including the written program, chemical receipt process, chemical inventory, Safety Data Sheet (SDS) management, employee training and more.
"Because chemical management is so complex and time-consuming, and the risks of non-compliance so high, we developed a comprehensive service that makes the entire process stress-free," added Gunderson. "We provide a dedicated regulatory specialist who manages all aspects of a company's HazCom program, and even create an electronic, searchable database of their current chemicals."
According to Gunderson, the service is especially ideal for companies with minimal EH&S staff, multiple operating locations or limited HazCom regulatory knowledge.
For more information about J. J. Keller's new Chemical Management Service, visit JJKellerDataSense.com/HazCom or call 888-473-4638.
About J. J. Keller & Associates, Inc.
J. J. Keller & Associates, Inc. is the most respected name in safety and regulatory compliance. Since its beginning as a one-man consulting firm in 1953, the company has grown to over 1,500 associates serving more than 500,000 customers — including over 90% of the Fortune 1000® companies. The company's subject-matter expertise spans nearly 1,500 topics, and its diverse solutions include training via online courses, streaming video or DVD; online management tools; managed services; consulting services; online and print compliance manuals and instructional publications; ELogs and mobile technology, forms and supplies.
Safety professionals rely on J. J. Keller's in-house expertise and wide selection of products and services to reduce risk and improve regulatory compliance, performance management, and operational efficiency. For more information, visit JJKeller.com
For more information, contact: