Back to Press Releases
FOR IMMEDIATE RELEASE (October 29, 2021)
Kari DuBois Receives 2021 J. J. Keller Founders Award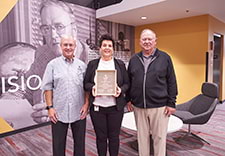 Neenah, WI - J. J. Keller & Associates, Inc. announced that Kari DuBois, Senior Director of Client Service in the company's Managed Services division, is the recipient of the 2021 J. J. Keller Founders Award.
This is the first year of the annual award at J. J. Keller. The Founders Award honors the legacy of John J. (Jack) Keller, who began the company on November 1, 1953, and the foundational principles he put into practice that have enabled J. J. Keller to become a most trusted name in safety and compliance. The award also recognizes the associate qualities that J. J. Keller Chairman Robert Keller and Vice Chairman James Keller have recognized over their careers as exemplifying true leadership, no matter one's position. These qualities include care for customers, care for fellow associates and care for the community – above and beyond expectations.
Robert Keller and James Keller presented DuBois with the award.
As Jim Keller shared during the award presentation, "Kari keeps a vigilant focus on her customers. This has been demonstrated recently by her management of record-breaking new service implementations in 2021.
"Kari is also committed to care for associates. Kari's view is not just for our associates as employees of J. J. Keller but as people. She is committed to organizational development and invests in her team and elevates those she works with across the company. Kari demonstrates humility in her leadership approach, and this has enabled her to establish a high level of trust between herself and the entire team."
As the 2021 J. J. Keller Founders Award recipient, DuBois was able to direct a $2,500 grant from the J. J. Keller Foundation, Inc. to a nonprofit of her choice. DuBois selected the Taylor Kennedy Folk Scholarship Foundation.
About J. J. Keller & Associates, Inc.
J. J. Keller & Associates, Inc. is the nation's leading provider of regulatory, safety and compliance solutions, serving more than 500,000 customers, including 90% of the Fortune 1000® companies. Organizations of all sizes rely on our expert insights to help create safe work environments and simplify the complexities of regulatory compliance. Our diversified portfolio of solutions and services, including cloud and AI-based solutions, online management tools, publications, training, forms, supplies, consulting and professional services, is trusted to safeguard workers, reduce risk and build operational confidence. As a privately-held, family-owned company since 1953, we are committed to helping protect lives every day. JJKeller.com
For more information, contact: