Back to Press Releases
FOR IMMEDIATE RELEASE (July 25, 2017)
J. J. Keller Welcomes New Safety Consultant
John Thompson joins J. J. Keller & Associates, Inc. as an expert at improving fleet safety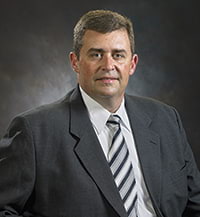 Neenah, WI - J. J. Keller & Associates, Inc. continues to bolster its impressive team of fleet safety and compliance experts with the hiring of safety consultant John Thompson.
With over 20 years of safety and compliance experience, Thompson specializes in FMCSA, DOT, and hazmat compliance, and is well-versed in operations management, policy development, and fleet utilization. Prior to joining J. J. Keller, Thompson worked as a consultant for Compliance Solutions, Inc., providing outsourced safety director services to a diverse group of regulated fleets throughout the U.S.
"John is a great addition to our consulting team," said Steve Murray, senior director of consulting services at J. J. Keller. "His familiarity with the transportation industry and in-depth knowledge of safety, fleet, and operations management will undoubtedly be a tremendous asset to the organizations we serve."
For additional information on J. J. Keller consulting services, visit JJKeller.com or call 888-473-4638.
About J. J. Keller & Associates, Inc.
Since its beginning as a one-man consulting firm in 1953, J. J. Keller & Associates, Inc. has grown to become the most respected name in safety and regulatory compliance. Now over 1,400 associates strong, J. J. Keller serves over 600,000 customers — including over 90% of Fortune 1000® companies. With subject-matter expertise spanning a multitude of industries and regulatory agencies, the company offers consulting and managed services for fleet and transportation, workplace safety and environmental, and human resources. In addition to these professional services, J. J. Keller also offers electronic logging devices, training, online management tools, publications, and forms and supplies. For more information on how to reduce risk and improve regulatory compliance, visit JJKeller.com.
For more information, contact:
Mary Borsecnik
Corporate Marketing Communications Specialist
J. J. Keller & Associates, Inc.
1-800-843-3174, ext. 7050
Email: mborsecnik@jjkeller.com