Back to Press Releases
FOR IMMEDIATE RELEASE (December 6, 2017)
J. J. Keller Updates ELog App to Give Fleets an ELD Mandate-Compliant Solution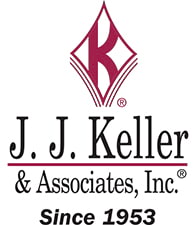 Neenah, WI - To help fleets comply with the ELD mandate, J. J. Keller & Associates, Inc. has updated their ELog app, making their Encompass® ELog system fully compliant for the mandate deadline. The app is available on the Google Play™ store for Android™ devices and will be available on the App Store® for iPhone® and iPad® devices in early December.
"This update gives current Encompass® ELog customers the freedom to operate our hardware as AOBRDs until December 16, 2019 under FMCSA's grandfather clause, or to operate them as ELDs with no swap outs required," said Rustin Keller, executive vice president & COO at J. J. Keller & Associates, Inc. "And fleets installing our hardware after the ELD mandate deadline can be assured everything is compliant with the rules."
To assist Encompass® ELog customers who have decided to transition their hardware from AOBRDs to ELDs, J. J. Keller has developed a full suite of resources, including checklists, webcasts, guides, and FAQs, driver cards, and a dedicated support center.
"Our customers are compliance-savvy professionals, so we're not surprised that many are already transitioning from AOBRDs to ELDs ahead of the mandate," added Keller. "Helping them understand the different regulatory requirements for each option, and providing support resources to make their transition seamless, are key components of our Encompass customer care process."
J. J. Keller's Encompass® Fleet Management System with ELogs consists of an ELog app that works with most smart devices, its FMCSA-registered ELD, and the cloud-based Encompass® back office. For more information about J. J. Keller's Encompass® system, call 855-693-5338 or visit JJKeller.com/ELogs.
About J. J. Keller & Associates, Inc.
Since its beginning as a one-man consulting firm in 1953, J. J. Keller & Associates, Inc. has grown to become the most respected name in safety and regulatory compliance. Now over 1,400 associates strong, J. J. Keller serves over 600,000 customers — including over 90% of the Fortune 1000® companies. The company's subject-matter expertise spans nearly 1,500 topics, and its diverse solutions include ELogs and mobile technology; training via online courses, streaming video or DVD; online management tools; managed services; consulting services; online and print publications; forms and supplies.
Transportation professionals rely on J. J. Keller's in-house expertise and wide selection of products and services to reduce risk and improve regulatory compliance, performance management, and operational efficiency. For more information, visit JJKeller.com.
iPhone and iPad are trademarks of Apple Inc., registered in the U.S. and other countries. App Store is a service mark of Apple Inc. Android and Google Play are trademarks of Google Inc.
For more information, contact:
Mary Borsecnik
Corporate Marketing Communications Specialist
J. J. Keller & Associates, Inc.
1-800-843-3174, ext. 7050
Email: mborsecnik@jjkeller.com