Back to Press Releases
FOR IMMEDIATE RELEASE (February 15, 2022)
J. J. Keller's Universal Placard Holder Among Heavy Duty Trucking Top 20 Products
Patent-pending Flexible Design Addresses Driver Pain Points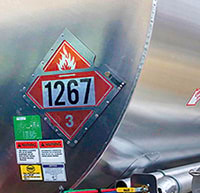 Neenah, WI - The Universal Placard Holder from J. J. Keller & Associates, Inc. has been recognized by Heavy Duty Trucking (HDT) as a 2022 Top 20 Product. The holder was developed after extensive customer research and features a unique design that allows it to be easily mounted to flat or curved surfaces as small as five feet without kinking.
"Customers told us that with traditional holders, their drivers had difficulty inserting and removing placards, the clips often broke, and the placards would blow out," said Joel Clark, portfolio director of forms and supplies at J. J. Keller.
The Universal Placard Holder solves those issues with a:
removable, UV-resistant polycarbonate shield to protect placards from the elements and blowout
pushup thumb hole in the shield for easy removal of the placard and shield
one-piece stainless steel spring clip to keep the placard and shield in place
Heavy Duty Trucking selects their top 20 products based on innovation, ability to address important industry issues, and potential to improve a fleet's performance. The 2022 Top 20 awards were chosen by a three-person panel of the trucking industry's most experienced editors with the help of fleet representatives from the magazine's Editorial Advisory Board and HDT Truck Fleet Innovators.
"Each year, some of the new products that are most highly rated by our fleet panel are not huge tech innovations, but instead are smaller, more focused innovations that address real-world pain points among fleets and drivers," said Deborah Lockridge, editor in chief of Heavy Duty Trucking. "J. J. Keller's Universal Placard Holder is one such product."
For more information on the Universal Placard Holder, visit JJKeller.com/Top20.
About J. J. Keller & Associates, Inc.
Since we began as a family-owned company in 1953, our purpose at J. J. Keller & Associates, Inc. has been to protect people and the businesses they run. Today, serving 500,000+ companies across North America, our associates are proud to make a larger impact than ever. Organizations of all sizes rely on our expert insights to help create safe work environments and simplify complex government regulations. They trust in our comprehensive portfolio of solutions – including ELogs, dash cams and mobile technology; driver training via online courses, streaming video or DVD; cloud-based management tools; managed services; consulting services; online and print publications; forms, PPE and safety supplies.
Transportation professionals rely on J. J. Keller's experts, products and services to reduce risk, improve regulatory compliance, manage performance, and boost operational efficiency. For more information, visit JJKeller.com
For more information, contact: