Back to Press Releases
FOR IMMEDIATE RELEASE (March 27, 2020)
J.J. Keller Releases New FFCRA Poster to Help Small Businesses Comply with Mandatory COVID-19-Related Federal Posting Change
The bill was signed on March 18 in response to the ongoing coronavirus outbreak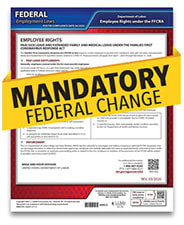 Neenah, WI - To help small businesses and public agencies comply with the new posting requirement in the Families First Coronavirus Response Act (FFCRA), J.J. Keller & Associates, Inc. — the nation's leader in safety and workplace regulatory compliance — has released a new FFCRA poster.
Per this new law — signed March 18 in response to the ongoing coronavirus outbreak — employers with fewer than 500 employees and all public agencies must display a FFCRA poster in their facility beginning on April 1, 2020.
"The FFCRA will have a tremendous impact on those directly affected by the coronavirus pandemic, which is why employers must act on this mandatory posting change as quickly as possible. It's imperative that these expanded sick leave benefits are properly communicated to eligible employees," said Terri Dougherty, human resources editor for J.J. Keller.
Affected employers are urged to ensure they have the required poster before the April 1 posting deadline. Order yours today at JJKeller.com.
For more information regarding this mandatory federal posting change, visit Congress.Gov.
About J. J. Keller & Associates, Inc.
J. J. Keller & Associates, Inc. is the most respected name in safety and regulatory compliance. Since its beginning as a one-man consulting firm in 1953, the company has grown to over 1,500 associates serving more than 600,000 customers — including over 90% of the Fortune 1000® companies. The company's subject-matter expertise spans nearly 1,500 topics and its diverse solutions include training via online courses, streaming video or DVD; online management tools; managed services; consulting services; publications; ELogs and mobile technology, forms and supplies.
HR professionals rely on J. J. Keller's in-house expertise and wide selection of products and services addressing core HR topics — including FMLA, ADA, HIPAA, FLSA, and employment law — to reduce risk and improve regulatory compliance, and performance management. For more information, visit JJKeller.com.
For more information, contact: