Back to Press Releases
FOR IMMEDIATE RELEASE (October 27, 2022)
J. J. Keller Recommends Update Service to Ensure Continual Labor Law Poster Compliance
Mandatory Federal Labor Law Change Means New Posters for All Covered Employers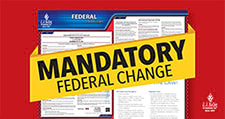 Neenah, WI - On Wednesday, the Equal Employment Opportunity Commission (EEOC) released a new "Know Your Rights: Workplace Discrimination is Illegal" posting that must be posted by employers with 15 or more employees. This is a mandatory federal change. Experts in human resources compliance at J. J. Keller & Associates, Inc. recommend HR managers consider an automatic update service to ensure compliance with mandatory labor law poster updates such as this one.
The new poster replaces the "Equal Employment Opportunity is the Law" poster, also known as the "EEO is the Law" poster. The new poster uses plain language and a bulleted format to explain employee rights under antidiscrimination laws. The poster:
Clarifies that sex discrimination includes discrimination based on pregnancy and related conditions, sexual orientation, or gender identity
Notes that harassment is a prohibited form of discrimination
Adds a quick response (QR) code that links to a web page on how to file charges with the EEOC
Provides information about equal pay discrimination for federal contractors
The EEOC has not provided a specific posting deadline but states on its website that employers must display the new poster.
What Are the Consequences of Not Updating Labor Law Posters?
"It's important that employers have a way to be alerted when changes to federal or state labor law posters occur," said Terri Dougherty, a human resources editor with J. J. Keller. "And it's advisable to ensure the updated posters are prominently displayed for your employees as soon as possible after any change.
"Not doing so increases the risk for a fine. But what may be more concerning for employers is that not complying with posting requirements can provide more leverage against an employer in a lawsuit in the event that a discrimination or other employment law issue occurs."
The maximum fine for not displaying the new poster is $612 for each separate offense. In other words, if an employer has multiple locations, they must post in each location, and if they fail to do so, they could be fined for each location.
Update Services Reduce Risk of Noncompliance
"We anticipate multiple state labor law poster changes in the new year," said Dougherty. "Ensuring multiple federal and state updates are posted – and posted in a timely manner – can be complex. So now may be the time to consider an update service and ensure compliance."
A labor law update service will actively manage an employer's poster program for them.
J. J. Keller, as an example, offers a Labor Law Poster Update Service that ensures an employer's program is compliant by emailing alerts on mandatory posting changes, sending replacement posters at no charge when a mandatory change occurs, and providing access to the J. J. Keller® Labor Law Poster Management Center.
"With a highly remote workforce across the country, employers should also ensure any poster update provider is equipped to ensure compliance for those workers who are not on company premises" added Dougherty. "Electronic posting is a great option for companies with remote workers."
J. J. Keller & Associates, Inc.
Since we began as a family-owned company in 1953, our purpose at J. J. Keller & Associates, Inc. has been to protect people and the businesses they run. Today, serving 500,000+ companies across North America, our associates are proud to make a larger impact than ever. Transportation, construction and industrial organizations of all sizes rely on our expert insights to help create safe, respectful work environments and simplify complex government regulations. They trust in our comprehensive portfolio of solutions, including cloud-based management tools, training, consulting, professional services, publications, forms, PPE and safety supplies. HR professionals rely on J. J. Keller's experts, products and services to address core HR topics — including FMLA, ADA, HIPAA, FLSA, and employment law — to reduce risk, improve regulatory compliance and manage performance. For more information, visit JJKeller.com.
For more information, contact: