Back to Press Releases
FOR IMMEDIATE RELEASE (May 6, 2020)
J.J. Keller Launches New 24/7 Vehicle Tracking Solution
Encompass® Platform Expands Service Offerings with Geotab GO9 Device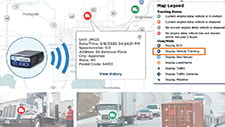 Neenah, WI - To provide regulated and non-regulated fleets with 24/7 visibility to their vehicles' GPS location, speed, and status, J.J. Keller has launched Encompass® Vehicle Tracking. This expansion of the Encompass® Platform also provides significant mapping enhancements, including robust traffic and weather views, so that fleets can plan more effectively.
"Organizations are most successful when they can mitigate risk and proactively respond to real-time operational challenges and opportunities," stated Tom Reader, director of marketing at J.J. Keller & Associates, Inc. "Encompass® Vehicle Tracking stands apart because it helps companies improve employee and fleet productivity and manage the risks related to compliance requirements like vehicle legalization, permitting, driver qualification, and drug testing."
Encompass® Vehicle Tracking pairs with the easy-to-install Geotab GO9 device. The solution enables companies to stay on top of their vehicle's location, improve vehicle utilization, and recover stolen vehicles.
The solution works in all vehicle classes, requires no driver interaction, and provides a robust, cloud-based platform that allows businesses to manage Federal Motor Carrier Safety Administration (FMCSA) driver and vehicle compliance.
Encompass® Vehicle Tracking is part of the Encompass® Platform and is compatible with other J.J. Keller in-cab solutions, including the J.J. Keller® Dash Cam Pro, J.J. Keller ELDs, and the suite of J.J. Keller driver mobile apps.
More information on Encompass® Vehicle Tracking can be requested at JJKeller.com/VehicleTracking or by calling 833.708.4634.
About J.J. Keller & Associates, Inc.
Since its beginning as a one-man consulting firm in 1953, J. J. Keller & Associates, Inc. has grown to become the most respected name in safety and regulatory compliance. Now over 1,400 associates strong, J. J. Keller serves over 600,000 customers — including over 90% of the Fortune 100® companies. The company's subject-matter expertise spans nearly 1,500 topics, and its diverse solutions include ELogs and mobile technology; training via online courses, streaming video or DVD; online management tools; managed services; consulting services; online and print publications; forms and supplies.
Transportation professionals rely on J. J. Keller's in-house expertise and wide selection of products and services to reduce risk and improve regulatory compliance, performance management, and operational efficiency. For more information, visit www.jjkeller.com.
For more information, contact: