Back to Press Releases
FOR IMMEDIATE RELEASE (April 3, 2023)
J. J. Keller Introduces Labor Law Posters in NEW Poly Material
Durable, eco-friendly material reduces impact on the environment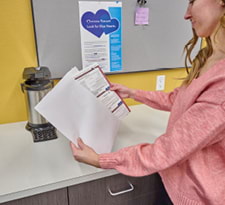 Neenah, WI - J. J. Keller & Associates, the leader in safety regulatory and compliance, now manufactures labor law posters with a new eco-friendly, polypropylene (poly) material.
The new poly posters are 100% recyclable, so there's a decreased environmental impact when posters change — customers can simply recycle posters when they must be replaced to comply with mandatory federal or state changes.
"This new material not only supports employers' environmental efforts, but also J. J. Keller's ISO 14001 initiatives to improve the environment," said Joel Clark, Portfolio Director with J. J. Keller. "We're really excited to offer an environmental focus as a solution for our customers."
In a recent study by J. J. Keller & Associates, Inc., employers indicated the common delivery method of rolled posters in mailing tubes was cumbersome for interoffice mail. The new poly posters are folded and mailed flat, allowing for much easier delivery. Plus, the posters offer the additional benefits of water, tear and glare resistance for increased readability as well as durability in high-traffic areas.
"Overall, the change supports our commitment to help improve the environment as well as our goals to provide quality solutions, unmatched expertise, and world-class service to our customers," Clark said.
J. J. Keller offers Labor Law Posters covering state, federal, local and applicable wage order requirements, as well as a Labor Law Poster Update Service to ensure an employer's posting program is compliant by emailing alerts on mandatory posting changes, sending replacement posters at no charge when a mandatory change occurs, and providing access to the J. J. Keller® Labor Law Poster Management Center. Please visit JJKeller.com/LawPosters for more information.
For questions about J. J. Keller's new polypropylene labor law posters, please call 800-327-6868.
J. J. Keller & Associates, Inc.
Since we began as a family-owned company in 1953, our purpose at J. J. Keller & Associates, Inc. has been to protect people and the businesses they run. Today, serving 500,000+ companies across North America, our associates are proud to make a larger impact than ever. Transportation, construction and industrial organizations of all sizes rely on our expert insights to help create safe, respectful work environments and simplify complex government regulations. They trust in our comprehensive portfolio of solutions, including cloud-based management tools, training, consulting, professional services, publications, forms, PPE and safety supplies. HR professionals rely on J. J. Keller's experts, products and services to address core HR topics — including FMLA, ADA, HIPAA, FLSA, and employment law — to reduce risk, improve regulatory compliance and manage performance. For more information, visit JJKeller.com.
For more information, contact: