Back to Press Releases
FOR IMMEDIATE RELEASE (November 18, 2021)
J. J. Keller Further Expands Safety & Compliance Solutions To Canada and Mexico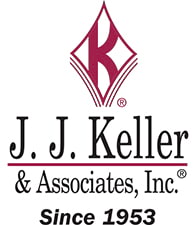 Neenah, WI - J. J. Keller & Associates, Inc. a safety and compliance solutions leader transforming transportation, construction and industrial environments across the U.S., announced today it is formally expanding the company's solutions and market reach into Mexico and Canada.
"With safety challenges and regulatory changes at an all-time high across North America, the demand for existing and innovative new safety and compliance solutions has never been greater," said Rustin Keller, President and CEO at J. J. Keller. "Over the past 65+ years, J. J. Keller has built a world-class reputation with unequaled knowledge, diverse solutions and caring service. We're excited about the opportunity to increase our customer base across the North American connected economy."
J. J. Keller is dedicating regulatory experts to monitor regulations and trends that affect transportation, construction and industrial companies in these countries. The company will further develop and advise on solutions that help fleets and employers mitigate risk and improve safety compliance. From consulting, managed services and mobile technology to training, forms and supplies, J. J. Keller is poised to make a difference in the lives of countless drivers, fleets and businesses in North America.
The company's most recent product addition is J. J. Keller's Bilingual (Spanish/English) Mexico Driver's Daily Log Book (Bitácora de horas de servicio para conductores de México, bilingüe, doble capa, con carbónico y DVIR simplificado), which will help drivers in Mexico satisfy the hours of service requirements of Official Mexican Standard NOM-087-SCT-2-2017. Utilizing this daily log can help drivers prevent fines or an out of service order. This solution joins other J. J. Keller safety products available on Amazon Mexico and its Spanish-language training titles. In Canada, J. J. Keller provides J. J. Keller® Safe & Smart Driver Training, consulting as well as safety-related forms and supplies via Amazon Canada.
For more information about J. J. Keller's Mexico Driver's Daily Log Book, visit JJKeller.com or call 800-327-6868.
About J. J. Keller & Associates, Inc.
J. J. Keller & Associates, Inc. is the most respected name in safety and regulatory compliance. Since its beginning as a one-man consulting firm in 1953, the company has grown to over 1,500 associates serving more than 500,000 customers — including over 90% of the U.S. Fortune 1000® companies. The company's subject-matter expertise spans nearly 1,500 topics, and its diverse solutions include ELogs and mobile technology; training via online courses, streaming video or DVD; online management tools; managed services; consulting services; online and print publications; forms and supplies.
Transportation professionals rely on J. J. Keller's in-house expertise and wide selection of products and services to reduce risk and improve regulatory compliance, performance management, and operational efficiency. For more information, visit JJKeller.com.
For more information, contact: