Back to Press Releases
FOR IMMEDIATE RELEASE (June 27, 2018)
J. J. Keller Foundation Tops $1.2 Million in Support for Fox Cities Habitat for Humanity Builds
J. J. Keller & Associates, Inc. Volunteers Build 15th Habitat Home in Partnership with Foundation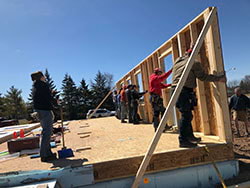 Neenah, WI - J. J. Keller & Associates, Inc. and the J. J. Keller Foundation, Inc. completed construction of their 15th home built for Greater Fox Cities Habitat for Humanity. Over the course of these builds, the J. J. Keller Foundation has granted more than $1.2 million to support the builds and match J. J. Keller associates' personal contributions. This long-term partnership has made a difference for each family by helping to provide a place they can call home.
Nearly 75 associates of J. J. Keller participated in the most recent build, which kicked off during an unexpected snowstorm in mid-April. Ashley Nick, a sales training specialist with J. J. Keller, volunteered as the lead for this company project.
"I volunteered for several reasons," said Nick. "I have three children, and being able to share this experience with them was wonderful. They learned about Habitat for Humanity and why it is so important. We drove past the build frequently to see the progress and talked about ways to help others. When they attended the dedication, my older children met the family – it really opened their eyes to the impact of these builds."
The dedication ceremony for the home was held on Saturday, June 23, 2018, when the keys to the new home were handed over to the deserving family.
In addition to doing the hands-on work of the build, J. J. Keller associates raised nearly $11,000 through fundraising events. The J. J. Keller Foundation provided $75,000 in construction costs, along with a $10,000 associate contribution match.
"We're making a difference in the community where we live and work," said Nick. "I am always interested in volunteering, but I don't have as much time as I would like. With J. J. Keller allowing associates to use work time to participate in Habitat for Humanity builds, it was a quick yes for me to contribute. And it inspired me to continue to make more time in my life for things like this."
About J. J. Keller & Associates, Inc.
Serving more than 600,000 customers, including 90% of Fortune 1000® companies, J. J. Keller & Associates, Inc. is the nation's leading provider of regulatory, safety and compliance solutions. Organizations of all sizes rely on our expert insights to help create safe work environments and simplify the complexities of regulatory compliance. Our diversified portfolio, including electronic logging, mobile technologies, online management tools, publications, training, forms, supplies, consulting and professional services, is trusted to safeguard workers, reduce risk and build operational confidence. As a privately-held, family-owned company since 1953, we are committed to helping protect lives every day. JJKeller.com
About J. J. Keller Foundation, Inc.
Founded in 1990, the J. J. Keller Foundation, Inc. is a private, family foundation that provides charitable funding to many nonprofit organizations within the local community. Partnering with organizations to change the lives of those in need, the J. J. Keller Foundation has supported several high-impact community collaborations from Green Bay to Oshkosh. These initiatives have addressed children's mental health, providing safe and stable housing, food programs, and a host of other programs that work to meet individuals' basic needs. www.jjkellerfoundation.org
For more information, contact: