Back to Press Releases
FOR IMMEDIATE RELEASE (March 25, 2021)
J. J. Keller Expands Consulting Services Team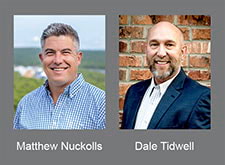 Neenah, Wis. — To meet the growing demand for its DOT and Environmental Health & Safety consulting services, J. J. Keller & Associates, Inc. has added two new consultants to their team.
Dale Tidwell joins J. J. Keller as their DOT Consulting Practice Manager. With over 36 years of experience helping fleets improve safety and compliance, Tidwell oversees J. J. Keller consultants' delivery of services and advises on driver training and curriculum.
Matthew Nuckolls joins J. J. Keller as a Sr. Safety Consultant specializing in environmental health & safety. Bringing over 14 years of experience to the position, Nuckolls provides clients with OSHA safety and compliance solutions, implements best practices, and identifies compliance deficiencies.
"Dale and Matthew deliver an exceptional combination of expertise and leadership to our consulting clients," said Steve Murray, vice president of content & consulting services at J. J. Keller. "Their real-world knowledge gained from working with companies of all sizes is a tremendous asset to our team as we continue to grow to meet client demand."
J. J. Keller was named to Consulting Magazine's list of Fastest Growing Consulting Firms in 2020 for the sixth consecutive year. They ranked No. 14 on the list, up from No. 45 in 2019.
For more information about J. J. Keller's consulting services, visit JJKeller.com/consulting or call 888-473-4638.
About J. J. Keller & Associates, Inc.
J. J. Keller & Associates, Inc. is the most respected name in safety and regulatory compliance. Since its beginning as a one-man consulting firm in 1953, the company has grown to over 1,500 associates serving more than 500,000 customers — including over 90% of the Fortune 1000® companies. The company's subject-matter expertise spans nearly 1,500 topics, and its diverse solutions include ELogs and mobile technology; training via online courses, streaming video or DVD; online management tools; managed services; consulting services; online and print publications; forms and supplies.
Transportation professionals rely on J. J. Keller's in-house expertise and wide selection of products and services to reduce risk and improve regulatory compliance, performance management, and operational efficiency. For more information, visit JJKeller.com.
For more information, contact:
Susan Baranczyk
J. J. Keller & Associates, Inc.
1-920-722-7391
Email: sbaranczyk@jjkeller.com