Back to Press Releases
FOR IMMEDIATE RELEASE (April 2, 2019)
J.J. Keller Ensures Uninterrupted Compliance During Industry-Wide Sunset of 3G
Leading compliance provider affirms electronic logging solution compatible and unaffected by transition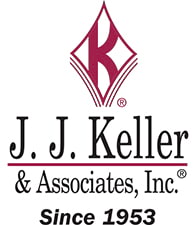 Neenah, WI - As they seek to increase capacity, telecommunication networks are shutting down their 2G and 3G access in favor of 4G/LTE and 5G wireless networks. For motor carriers who installed telematics and/or automatic on-board recording devices (AOBRDs) with integrated 3G cellular capabilities, a physical device replacement will be necessary to ensure compatibility with the change — unless the motor carrier uses devices already compatible with 4G/LTE, such as J.J. Keller electronic logging devices.
To safeguard against potential compliance issues, J.J. Keller recommends motor carriers check their telematics and/or electronic logging devices to ensure they are compatible with 4G/LTE communication networks. This includes finding out if their vendor will be updating their device for 4G/LTE compatibility through a firmware or software update and, if so, when. Additionally, AOBRD users should take this opportunity to confirm if their devices are capable of transitioning to ELD functionality before the December 16, 2019 ELD compliance deadline.
As for those currently using J.J. Keller electronic logging devices, no action is needed to comply with the transition to 4G/LTE.
"All J.J. Keller® Compliance Tablets™ are 3G/4G/LTE compatible, and unaffected by the 3G phase out," confirmed Tom Reader, senior director of marketing at J.J. Keller & Associates, Inc. "In fact, we currently activate our compliance tablets as LTE devices on both AT&T and Verizon networks."
Electronic logging systems that rely on personal smart devices to report hours-of-service data must support 4G/LTE in the future. J.J. Keller indicated their AT&T tablets fall back to 3G only in areas where LTE is not available (which is rare in the United States), and upon entering Canada and Mexico. This fallback is transparent to the user.
J.J. Keller does not have distinct hardware for AOBRD and ELD solutions. All of the company's devices can operate as either AOBRD or ELD, removing concern from customers' minds in terms of compliance and compatibility.
"Without the need to worry about hardware transitions or network upgrades, J.J. Keller customers can focus their efforts on training and change management measures critical to the AOBRD to ELD transition," said Reader. "Our dedicated team of compliance experts and proven fleet management solution make us well-equipped to assist them in that capacity."
About J.J. Keller & Associates, Inc.
J. J. Keller & Associates, Inc. is the most respected name in safety and regulatory compliance. Since its beginning as a one-man consulting firm in 1953, the company has grown to over 1,400 associates serving more than 600,000 customers — including over 90% of the Fortune 1000® companies. The company's subject-matter expertise spans nearly 1,500 topics, and its diverse solutions include ELogs and mobile technology; training via online courses, streaming video or DVD; online management tools; managed services; consulting services; online and print publications; forms and supplies.
Transportation professionals rely on J. J. Keller's in-house expertise and wide selection of products and services to reduce risk and improve regulatory compliance, performance management, and operational efficiency. For more information, www.jjkeller.com.
For more information, contact:
Susan Baranczyk, Corporate Communications
J. J. Keller & Associates, Inc.
1-920-680-5797
Email: sbaranczyk@jjkeller.com