Back to Press Releases
FOR IMMEDIATE RELEASE (June 9, 2020)
J. J. Keller's Commitment to Quality Training Recognized by Telly Awards Committee
J. J. Keller Earns Five Awards for Video Excellence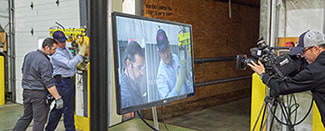 Neenah, WI - As testament to its dedication to producing the highest quality video training for employers nationwide, J. J. Keller & Associates, Inc. has received four silver 2020 Telly Awards and one bronze.
Started in 1979, the Telly Awards annually honors the best work created within television and across video. Winners represent the most respected advertising agencies, production companies, television stations, cable operators, and corporate video departments in the world. J. J. Keller's awards were in the category of Non-Broadcast General-Training (for Corporate Use).
Developed by J. J. Keller's experienced creative content team in tandem with its in-house subject-matter experts, the winning videos are:
Driver Training Series: Backing Techniques covers the proper procedures for various tractor-trailer backing maneuvers including straight-line, alley dock, sight-side jackknifing and parallel parking.
Driver Training Series: Coupling & Uncoupling shows what to look for when inspecting a tractor-trailer's coupling system, how to make a secure connection, and how to safely operate a trailer's landing gear and the fifth wheel pull release.
Human Trafficking Awareness for Drivers helps commercial motor vehicle drivers identify different types of human trafficking and those most at risk of becoming victims. It also provides drivers with various ways (phone numbers, text, website) to notify authorities.
Whose Road Is It Anyway? Sharing Wisconsin's Roads is a custom video developed for the Wisconsin Motor Carrier Association that stresses to new drivers the importance of sharing the road with commercial motor vehicles.
J. J. Keller's Respiratory Protection video, developed for manufacturing and construction employees, covers respiratory hazards, medical evaluations, personal protective equipment, respirator seal fit, and maintenance.
"Our team puts a tremendous amount of time and effort into making each of our training videos engaging and informative," said Tom Ditzler, portfolio director at J. J. Keller. "It's an honor to be recognized by the Telly Awards committee this year and over the past nine years."
For a full listing of J. J. Keller's Telly Award-winning videos, visit JJKellerTraining.com/Awards
About J.J. Keller & Associates, Inc.
J. J. Keller & Associates, Inc. is the nation's leading provider of regulatory, safety and compliance solutions, serving more than 600,000 customers, including 90% of the Fortune 1000® companies. Organizations of all sizes rely on our expert insights to help create safe work environments and simplify the complexities of regulatory compliance. Our diversified portfolio of solutions and services including online management tools, publications, training, forms, supplies, consulting and professional services is trusted to safeguard workers, reduce risk and build operational confidence. As a privately-held, family-owned company since 1953, we are committed to helping protect lives every day. www.jjkeller.com.
For more information, contact: