Back to Press Releases
FOR IMMEDIATE RELEASE (January 10, 2018)
J. J. Keller & Associates, Inc. Begins $6.5 Million Renovation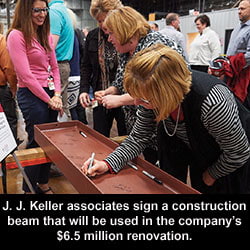 Neenah, WI - Yesterday, J. J. Keller & Associates, Inc. officially began construction for a $6.5 million renovation project on its corporate campus at 3003 Breezewood Lane in Neenah. The company will remodel 67,000 square feet of an existing warehouse and office space, known as its Vinland location. The renovation will accommodate future growth, as well as create the type of environment associates seek to work in today. Keller, Inc., based in Kaukauna, Wis., is the architect and design/build general contractor for the project.
"J. J. Keller is growing, and as we do, we continue to care greatly about our associates' experience at work. As a result, we're making a major investment to renovate this building into a new, modern workspace," said Marne Keller-Krikava, president and CEO of J. J. Keller. "This includes bringing in natural light, opening up floor space, strengthening work flow through design and, overall, transitioning some former warehouse areas into office environments that will hold up to 200 new workspaces."
The Vinland building was originally constructed by J. J. Keller in 1971 as a printing facility. It is one of two buildings on the company's corporate campus in Neenah, with additional sales and technology offices in the Fox Valley. Since 1971, J. J. Keller has built multiple additions to the Vinland building, for a total of 382,338 square feet used for printing, manufacturing and office space.
"The current renovation also accommodates our growth and the changing nature of our work," said Keller-Krikava. "In the past, we had a large focus on printing and distributing safety and regulatory compliance resources for our customers. Today, we are increasingly keeping our customers safe and compliant through consulting, online resources and technology solutions. These are our areas of growth. The new space will convert printing and manufacturing space to areas suitable for this type of work."
Construction on the J. J. Keller Vinland location is expected to be completed in October 2018.
Note to editors: Keller, Inc. and J. J. Keller & Associates, Inc. have similar names; however, the two companies are not affiliated.
About J. J. Keller & Associates, Inc.
Serving more than 600,000 customers, including 90% of the Fortune 1000® companies, J. J. Keller & Associates, Inc. is the nation's leading provider of regulatory, safety and compliance solutions. Organizations of all sizes rely on our expert insights to help create safe work environments and simplify the complexities of regulatory compliance. Our diversified portfolio of solutions and services including online management tools, publications, training, forms, supplies, consulting and professional services is trusted to safeguard workers, reduce risk and build operational confidence. As a privately-held, family-owned company since 1953, we are committed to helping protect lives every day. For more information on J. J. Keller & Associates, Inc., visit JJKeller.com.
About Keller, Inc.
Keller, Inc. is 100 percent employee owned and has offices in the Fox Cities, Madison, Milwaukee and Wausau. They are leaders in the industry specializing in new construction, remodel, retrofit, and reroof projects. They have the staff and expertise to take projects from the early phases of design through the construction process to ensure that the project is completed on time and within budget. For more information on Keller, Inc., Top Metal Builder in the Nation as reported by "Metal Construction News" visit www.kellerbuilds.com.
For more information, contact: