Back to Press Releases
FOR IMMEDIATE RELEASE (April 13, 2022)
J. J. Keller® Announces Robust Feature Expansion to Encompass
Flagship Fleet Management Solution Now Includes Training Library and Dual-Facing Dash Cam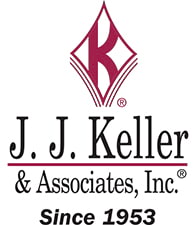 Neenah, WI - Thousands of motor carriers rely on Encompass® Fleet Management to solve the regulatory complexities and time-consuming recordkeeping associated with everyday fleet tasks like driver qualification, hiring, hours of service, and vehicle inspections. Thanks to the recent addition of new features, Encompass clients now have even more resources to maximize their safety efforts.
This substantial expansion of Encompass compliance features gives fleet professionals:
The ability to improve driving skills with 500+ J. J. Keller training courses
Quick answers to regulatory questions with online access to J. J. Keller subject matter experts
Better trip planning and vehicle visibility with enhanced Encompass mapping, including weather radar and traffic camera data
Time savings through improved compliance workflows related to driver and vehicle recordkeeping
The Encompass feature expansion includes an optional dual-facing dash cam powered by Encompass® Video Event Management. "Our new dash cam solution helps fleet professionals respond quickly to accidents and potentially dangerous driver behaviors," explains Tom Reader, Sr. Director of Marketing, J. J. Keller & Associates, Inc. "Our proprietary features allow them to score events based on severity, categorize videos, and send video clips to drivers for review. In addition, the solution provides effective risk mitigation when paired with Encompass training, delivering quick, documented corrective action training and coaching."
"More than 10,000 motor carriers trust Encompass for DOT fleet management," states Rustin Keller, President and CEO of J. J. Keller & Associates, Inc. "Whether they're managing driver or vehicle regulatory compliance, Encompass has always provided fleet professionals with a comprehensive view of their operation, giving them the data they need to respond quickly and efficiently to risk and business needs. These new features —complimentary with an Encompass subscription — deliver a great productivity boost to fleet professionals who are frustrated with inefficient processes and limited resources. With Encompass, they gain more time and resources."
Talk with a compliance specialist today about using Encompass free for 60 days. Call 855.693.5338 or visit JJKeller.com/EncompassPlatform.
J. J. Keller & Associates, Inc.
Since we began as a family-owned company in 1953, our purpose at J. J. Keller & Associates, Inc. has been to protect people and the businesses they run. Today, serving 500,000+ companies across North America, our associates are proud to make a larger impact than ever. Organizations of all sizes rely on our expert insights to help create safe work environments and simplify complex government regulations. They trust in our comprehensive portfolio of solutions – including ELogs, dash cams and mobile technology; driver training via online courses, streaming video or DVD; cloud-based management tools; managed services; consulting services; online and print publications; forms, PPE and safety supplies.
Transportation professionals rely on J. J. Keller's experts, products and services to reduce risk, improve regulatory compliance, manage performance, and boost operational efficiency. For more information, visit JJKeller.com.
For more information, contact: