Back to Press Releases
FOR IMMEDIATE RELEASE (June 21, 2018)
J. J. Keller Announces Availability of Shared ELD Solution with Geotab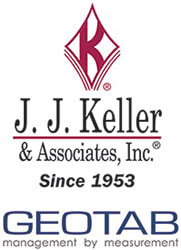 Neenah, WI - Fleets can now use an FMCSA-registered ELD solution that leverages the regulatory tools of the J. J. Keller® Encompass® Fleet Management System and the telematics technology of Geotab's open platform solution to help improve both fleet compliance and performance.
The new shared ELD solution replaces the companies' AOBRD solution, enabling fleets to comply with the full ELD mandate deadline on December 16, 2019.
The solution pairs the cloud-based J. J. Keller® Encompass® system with Geotab's GO7 ELD. A hard-wired connection between the Geotab device and the driver's Android™ smart device with the J. J. Keller Mobile® app installed offers fleets a reliable and compliant ELD solution with best-in-class hours-of-service auditing and reporting. Fleets currently using the shared AOBRD solution from J. J. Keller and Geotab can upgrade to the shared ELD solution without having to swap out ELD hardware.
"Collaborating with Geotab has resulted in an ELD solution that gives the industry a new option for compliance, efficiency and oversight," said Rustin Keller, president & CEO at J. J. Keller & Associates, Inc. "With Encompass, fleets can more efficiently and effectively manage their everyday compliance tasks, so they can stay focused on business growth while minimizing risk."
Encompass delivers interactive compliance tools to automate driver qualification, hiring, drug and alcohol program management, driver training, accident tracking, vehicle maintenance, IFTA reporting and unit legalization tasks.
Geotab's telematics solution utilizes data collected via the Geotab GO7 device to help fleets monitor and address unsafe driving behaviors, such as speeding, hard braking, seatbelt use, sharp cornering and more. Fleets can also improve operations by monitoring vehicle location, fuel usage and vehicle diagnostics data.
About J. J. Keller & Associates, Inc.
Since its beginning as a one-man consulting firm in 1953, J. J. Keller & Associates, Inc. has grown to become the most respected name in safety and regulatory compliance. Now over 1,400 associates strong, J. J. Keller serves over 600,000 customers — including over 90% of the Fortune 1000® companies. The company's subject-matter expertise spans nearly 1,500 topics, and its diverse solutions include ELogs and mobile technology; training via online courses, streaming video or DVD; online management tools; managed services; consulting services; online and print publications; forms and supplies.
Transportation professionals rely on J. J. Keller's in-house expertise and wide selection of products and services to reduce risk and improve regulatory compliance, performance management, and operational efficiency. For more information, visit JJKeller.com.
About Geotab
Geotab is advancing security, connecting commercial vehicles to the internet and providing web-based analytics to help customers better manage their fleets. Geotab's open platform and Marketplace, offering hundreds of third-party solution options, allows both small and large businesses to automate operations by integrating vehicle data with their other data assets. As an IoT hub, the in-vehicle device provides additional functionality through IOX Add-Ons. Processing billions of data points a day, Geotab leverages data analytics and machine learning to help customers improve productivity, optimize fleets through the reduction of fuel consumption, enhance driver safety, and achieve strong compliance to regulatory changes. Geotab's products are represented and sold worldwide through Authorized Geotab Resellers. To learn more, please visit www.geotab.com and follow them @GEOTAB and on LinkedIn.
For more information, contact: