Back to Press Releases
FOR IMMEDIATE RELEASE (January 24, 2017)
J. J. Keller & Associates, Inc. and McLeod Partner to Improve Hours of Service Compliance
Software integration further enhances Encompass® Fleet Management System with ELogs platform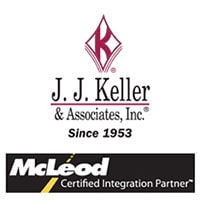 Neenah, WI - Leading safety and compliance provider J. J. Keller & Associates, Inc. and leading transportation software provider McLeod Software, have partnered to improve the management of driver availability and order planning processes for joint customers.
McLeod's LoadMaster® dispatch software will now integrate with the J. J. Keller® Encompass® Fleet Management System with ELogs to automate retrieval of drivers' hours of service data. Providing centralized visibility to available driver hours improves the ability to resolve driver noncompliance issues, maximize driver utilization and load assignment, and reduce the administrative burden that comes with data entry.
"Incorporating this latest integration for the Encompass platform provides our customers with new opportunities to improve productivity and compliance across their fleets," said Tom Reader, director of marketing at J. J. Keller & Associates, Inc. "McLeod is a great strategic partner as we work to broaden our hours of service offerings."
"We are pleased to be able to work with J. J. Keller on a best-in-class ELD solution for our LoadMaster® carrier clients," said Robert Brothers, manager of product development at McLeod Software. "With direct access to real-time hours of service information, our joint customers have better decision support capabilities at the front line of the carrier's operations."
About J. J. Keller & Associates, Inc.
Since its beginning as a one-man consulting firm in 1953, J. J. Keller & Associates, Inc. has grown to become the most respected name in safety and regulatory compliance. Now over 1,400 associates strong, J. J. Keller serves over 560,000 customers — including over 90% of the Fortune 1000® companies. The company's subject-matter expertise spans nearly 1,500 topics, and its diverse solutions include ELogs and mobile technology; training via online courses, streaming video or DVD; online management tools; managed services; consulting services; online and print publications; forms and supplies.
Transportation professionals rely on J. J. Keller's in-house expertise and wide selection of products and services to reduce risk and improve regulatory compliance, performance management, and operational efficiency. For more information, visit JJKeller.com. For more information, visit JJKeller.com.
About McLeod Software
Transportation companies that work with McLeod Software find the best ways to improve customer service levels and operating ratios, attract and retain the best drivers, and drive automation to destroy inefficiency.
McLeod Software is the leading provider of transportation dispatch, accounting, operations and brokerage management software, and document management systems. Specifically developed for the trucking industry, McLeod Software's advanced management solutions and services enable transportation companies to increase their efficiencies while reducing costs. Visit us at www.McLeodSoftware.com.
For more information, contact:
Mary Borsecnik
Corporate Marketing Communications Specialist
J. J. Keller & Associates, Inc.
1-800-843-3174, ext. 7050
Email: mborsecnik@jjkeller.com