Back to Press Releases
FOR IMMEDIATE RELEASE (February 11, 2020)
How Can Fleets Counteract Inspection Violations and Prevent Accidents?
J. J. Keller Offers 28 Corrective Action Training Courses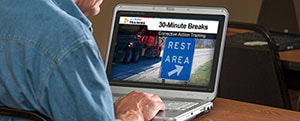 Neenah, WI - Fines. Higher CSA scores. Delays. Roadside inspection violations and highway citations can be costly for motor carriers. They can even lead to out-of-service orders and accidents. That's why many fleets employ corrective action training (CAT) for their drivers, and why J.J. Keller & Associates, Inc. developed 28 new online training courses.
"Targeted corrective-action training makes sure drivers get the training they really need, when they need it," said J.J. Keller subject-matter expert Daren Hansen. "This type of training is data-driven, more efficient for drivers and employers, and more effective at correcting specific behaviors that can lead to violations and crashes."
J.J. Keller's CAT online training courses will help motor carriers provide concise remedial training on critical transport safety and compliance topics:
30-Minute Breaks
CDLs and Medical Cards
Electronic Logging Devices
Hard Cornering
Hazmat Emergency Response Information
Hours of Service Documentation
Seat Belts
Tailgating
Traffic Lanes
Windshields and Wipers
Annual Periodic Inspections
Cell Phones
Emergency Equipment
Harsh Acceleration
Hazmat Packaging
Lights
Speeding
Tires
Vehicle Leaks
Brakes
Hard Braking
Hazmat Cargo Tanks
Hazmat Shipping Papers
Placarding
Stop Signs
Traffic Control Devices
Vehicle Maintenance

J.J. Keller's corrective action training courses are also used as part of several of our Managed Services," said Shaun Gunderson, vice president of managed services at J.J. Keller. "Our Compliance Specialists will enroll a client's drivers who are involved in negative driving events in the appropriate courses."
Additional corrective action courses will be available soon. This first group was chosen because these are the areas where the most violations are seen. For more information, visit JJKellerTraining.com/207602.
About J. J. Keller & Associates, Inc.
J. J. Keller & Associates, Inc. is the most respected name in safety and regulatory compliance. Since its beginning as a one-man consulting firm in 1953, the company has grown to over 1,500 associates serving more than 600,000 customers — including over 90% of the Fortune 1000® companies. The company's subject-matter expertise spans nearly 1,500 topics, and its diverse solutions include ELogs and mobile technology; training via online courses, streaming video or DVD; online management tools; managed services; consulting services; online and print publications; forms and supplies.
Transportation professionals rely on J. J. Keller's in-house expertise and wide selection of products and services to reduce risk and improve regulatory compliance, performance management, and operational efficiency. For more information, visit JJKeller.com.
For more information, contact: