Back to Press Releases
FOR IMMEDIATE RELEASE (April 19, 2019)
Get Roadcheck Ready with FREE 2019 Roadside Inspection E-Book for Fleets
Digital guide is one of many J.J. Keller inspection resources available to train and support drivers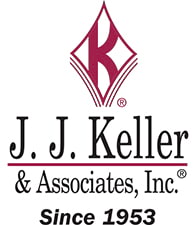 Neenah, WI - Following the success of the 2018 Roadside Inspection Survival Guide, J.J. Keller & Associates, Inc. has published the sequential 2019 Roadside Inspection E-Book, offering a FREE, condensed, and digitally interactive version of the popular guide.
In addition to J.J.Keller's extensive lineup of hours-of-service solutions, driver supplies, training tools and reference materials, the E-Book goes beyond basic inspection preparation to include specific guidance for eliminating violations, including ELD and AOBRD documentation, display and transfer requirements. The resource also includes role play exercises, checklists, cab cards and a quiz to help drivers retain the knowledge they'll need to complete a successful inspection.
"Successful roadside inspections are critical to a fleet's reputation, profit and productivity," said Tom Reader, senior director of marketing at J.J. Keller & Associates, Inc. "By offering quick access to expert step-by-step preparation tools, hands-on training, and in-cab references, we're providing the means to ensure consistently positive inspection results in 2019 and beyond."
To download a free copy of the 2019 Roadside Inspection E-Book, visit JJKeller.com/RoadsideGuide.
Additional guidance regarding the inspection selection process, inspection data, and ELD requirements will also be discussed as part of the How to Survive Roadcheck 2019: A Fleet Manager's Guide.
About J.J. Keller & Associates, Inc.
J. J. Keller & Associates, Inc. is the most respected name in safety and regulatory compliance. Since its beginning as a one-man consulting firm in 1953, the company has grown to over 1,400 associates serving more than 600,000 customers — including over 90% of the Fortune 1000® companies. The company's subject-matter expertise spans nearly 1,500 topics, and its diverse solutions include ELogs and mobile technology; training via online courses, streaming video or DVD; online management tools; managed services; consulting services; online and print publications; forms and supplies.
Transportation professionals rely on J. J. Keller's in-house expertise and wide selection of products and services to reduce risk and improve regulatory compliance, performance management, and operational efficiency. For more information, visit JJKeller.com
For more information, contact: