Back to Press Releases
FOR IMMEDIATE RELEASE (May 14, 2019)
Free Compliance Check Helps Fleets Get Ready for Final Phase of ELD Mandate
J.J. Keller experts provide free electronic logging device verification in advance of December 16, 2019 deadline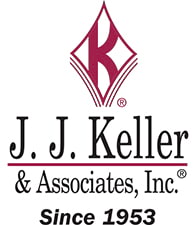 Neenah, WI - Carriers who aren't sure which type of ELog device they're using could find themselves in violation of ELD mandate rules later this year. With up to 60% of devices in use being only automatic on-board recording device (AOBRD)-compliant, J.J. Keller & Associates, Inc. is offering a free opportunity for carriers to complete a verification of their current devices while time is still on their side.
Since the ELD mandate went into effect, some carriers, drivers, and enforcement officers continue to struggle in determining whether an ELD or AOBRD is being used during roadside inspections. With just a few simple questions, a J.J. Keller Compliance Specialist will walk carriers through the Free ELD Compliance Check to help them determine which device their drivers are using, minimize the pain of another transition, and avoid potentially being placed out of service in the future.
"A significant percentage of carriers have yet to complete the transition to ELDs and may not even realize it" said Tom Reader, senior director of marketing at J.J. Keller & Associates, Inc. "An AOBRD solution is not compliant with the mandate, and puts fleets at risk. We have the expertise, resources and solutions available to help them verify which electronic logging system they're currently using, and if necessary, walk them through the process of transitioning to ELD-compliant devices."
Fleets can request their FREE ELD Compliance Check at JJKeller.com/Verify or by calling 833.708.4634.
About J. J. Keller & Associates, Inc.
J. J. Keller & Associates, Inc. is the most respected name in safety and regulatory compliance. Since its beginning as a one-man consulting firm in 1953, the company has grown to over 1,400 associates serving more than 600,000 customers — including over 90% of the Fortune 1000® companies. The company's subject-matter expertise spans nearly 1,500 topics, and its diverse solutions include ELogs and mobile technology; training via online courses, streaming video or DVD; online management tools; managed services; consulting services; online and print publications; forms and supplies.
Transportation professionals rely on J. J. Keller's in-house expertise and wide selection of products and services to reduce risk and improve regulatory compliance, performance management, and operational efficiency. For more information, visit JJKeller.com
For more information, contact: