Back to Press Releases
FOR IMMEDIATE RELEASE (October 24, 2017)
Free Assessment Helps Fleets Determine if Drivers are Exempt from the ELD Rule
J. J. Keller & Associates, Inc. Offers Complimentary ELD Exemption Assessment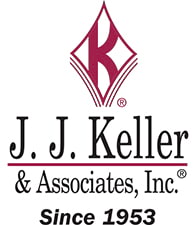 Neenah, WI — A widespread challenge fleets are facing under FMCSA's ELD rule is understanding whether or not their drivers are exempt from the rule.
"The number one question our DOT compliance experts are hearing from fleets is, 'Are we exempt from using ELDs?'" said Rustin Keller, executive vice president and chief operating officer for J. J. Keller & Associates, Inc. "To provide them with a quick, clear answer, we're offering a free ELD Exemption Assessment. With the December 18, 2017, ELD mandate deadline just weeks away, fleets need to know right now if their drivers will be required to switch to ELDs."
J. J. Keller's ELD Exemption Assessment, developed by the company's team of compliance specialists and conducted by phone, consists of 21 questions that will determine which, if any, of a fleet's drivers are exempt from using ELDs. The results of the Assessment will also be sent electronically to the fleet for their reference.
"It's natural for fleets and drivers to want to take advantage of applicable exemptions," added Keller, "but it can also be risky. Using an exemption improperly, or using one that doesn't actually apply, can lead to fines, an unsatisfactory Hours of Service rating, and a 'Conditional' safety rating. Our free ELD Exemption Assessment helps fleets avoid those risks."
To take the complimentary Assessment, call J. J. Keller's toll-free ELD Exemption Hotline at 888-531-8899 or request an Assessment at JJKeller.com/ELDexempt.
About J. J. Keller & Associates, Inc.
Since its beginning as a one-man consulting firm in 1953, J. J. Keller & Associates, Inc. has grown to become the most respected name in safety and regulatory compliance. Now over 1,400 associates strong, J. J. Keller serves over 600,000 customers — including over 90% of the Fortune 1000® companies. The company's subject-matter expertise spans nearly 1,500 topics, and its diverse solutions include ELogs and mobile technology; training via online courses, streaming video or DVD; online management tools; managed services; consulting services; online and print publications; forms and supplies.
Transportation professionals rely on J. J. Keller's in-house expertise and wide selection of products and services to reduce risk and improve regulatory compliance, performance management, and operational efficiency. For more information, visit JJKeller.com.
For more information, contact:
Mary Borsecnik
Corporate Marketing Communications Specialist
J. J. Keller & Associates, Inc.
1-800-843-3174, ext. 7050
Email: mborsecnik@jjkeller.com