Back to Press Releases
FOR IMMEDIATE RELEASE (August 23, 2018)
Family-Owned Safety Leader Well Suited to Support the Industry Majority 'Small Fleet'
J. J. Keller & Associates, Inc. Introduces Small Business Pricing and Implementation Services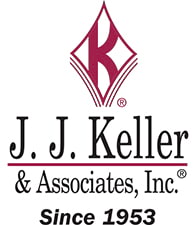 Neenah, WI - According to American Trucking Associations (ATA), small fleets are the vast majority, with those operating fewer than 20 trucks making up more than 97% of the trucking industry, and those with six trucks or less encompassing more than 91%.
When it comes to keeping up with industry requirements, these fleets are often at a disadvantage. Whether facing the steep pricing that comes with purchasing technology and vehicle parts at smaller volumes, having fewer resources available to keep up with regulatory changes and recordkeeping, or hiring and retaining drivers in a competitive and limited driver pool — the need to find reliable, cost-effective, expert support is imperative to a small fleet's success.
As a family-owned business, J. J. Keller understands the unique challenges facing these carriers and has introduced new pricing strategies and implementation services to help meet the growing demand for this segment of the industry. Driver qualification file management, vehicle legalization, drug and alcohol testing oversight, BYOD ELD technology, and an array of advisory services are just a few of the ways J. J. Keller helps small fleets maintain their competitive edge.
"We've been a trusted resource for family-owned small businesses since 1953," said Rustin Keller, president and CEO of J. J. Keller. "As the third generation in this family business, I remember my grandfather describing his start as a one-man consultant, earning his business through his reputation and the relationships he built with his customers. We maintain that same approach today — focusing first and foremost on the people we serve, while providing regulatory expertise, technical assistance and a range of offerings that will help them stay competitive and compliant."
As the regulatory landscape continues to evolve, J. J. Keller remains on the cutting edge of safety and compliance, providing tools and expertise to help small fleets reduce risk and satisfy the regulatory obligations they may not be equipped to handle on their own.
About J. J. Keller & Associates, Inc.
Since its beginning as a one-man consulting firm in 1953, J. J. Keller & Associates, Inc. has grown to become the most respected name in safety and regulatory compliance. Now over 1,400 associates strong, J. J. Keller serves over 600,000 customers — including over 90% of the Fortune 1000® companies. The company's subject-matter expertise spans nearly 1,500 topics, and its diverse solutions include ELogs and mobile technology; training via online courses, streaming video or DVD; online management tools; managed services; consulting services; online and print publications; forms and supplies.
Transportation professionals rely on J. J. Keller's in-house expertise and wide selection of products and services to reduce risk and improve regulatory compliance, performance management, and operational efficiency. JJKeller.com
For more information, contact: