Back to Press Releases
FOR IMMEDIATE RELEASE (May 21, 2020)
Emergency Response Guidebook Useful to Manufacturers as Well as Trucking Companies
Industries Pivoting to Produce for the Pandemic Need Emergency Response Information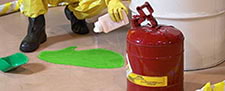 Neenah, WI - The Emergency Response Guidebook (ERG) is often used by truckers to satisfy the requirement that hazardous materials shipments be accompanied by emergency response information (49 CFR 172.602). However, the ERG also contains valuable chemical information for those in manufacturing as well.
"The ERG is a handy reference for any business that manufactures, processes, uses, stores, ships, and/or disposes of hazardous substances," said Tricia Hodkiewicz, J.J. Keller environmental health & safety (EH&S) editor. "For example, many hand sanitizers are flammable liquids, and cleaning and disinfecting products may contain chemicals that irritate the skin, eyes, or lungs. As some companies switch or increase their production to satisfy the need for COVID-19-fighting supplies, the need for reliable emergency response information may be even greater."
Published every four years, ERGs can supply U.S. manufacturers with information on potential hazards of chemicals, including cleaning and disinfecting chemicals, which may be corrosive materials, irritants or other health hazards. It also provides basic emergency procedures relative to a spill or release, including the "safe distance" to evacuate employees or the public from the scene, suggested personal protective equipment (PPE) for responders, and first aid measures. In addition, the guidebook can help companies make a hazardous waste determination.
As chemical containers in industrial facilities often depict Department of Transportation (DOT) placards, labels, and markings, the guidebook is also a helpful resource for understanding the information they convey and is useful to companies following OSHA's HazCom GHS requirements. What's more, OSHA requires all spill response team members to have training on the use of the ERG, under the HAZWOPER Standard (29 CFR 1910.120 and 1926.65). Enforcement officers and inspectors expect companies to have the most up-to-date emergency response information, which can be found in the 2020 Emergency Response Guidebook.
The 2020 Emergency Response Guidebook is available for pre-order for just $2.95 each for the pocket-size, softbound edition from J.J. Keller, and is expected to ship this summer. For more information, visit JJKeller.com/ERG.
About J.J. Keller & Associates, Inc.
J. J. Keller & Associates, Inc. is the nation's leading provider of regulatory, safety and compliance solutions, serving more than 600,000 customers, including 90% of the Fortune 1000® companies. Organizations of all sizes rely on our expert insights to help create safe work environments and simplify the complexities of regulatory compliance. Our diversified portfolio of solutions and services including online management tools, publications, training, forms, supplies, consulting and professional services is trusted to safeguard workers, reduce risk and build operational confidence. As a privately-held, family-owned company since 1953, we are committed to helping protect lives every day. www.jjkeller.com.
For more information, contact: