Back to Press Releases
FOR IMMEDIATE RELEASE (June 23, 2020)
Driver Roadside Inspections and Traffic Enforcement Activity On The Rise
J. J. Keller Offers New Roadside Inspection Resources — E-Book and Checklists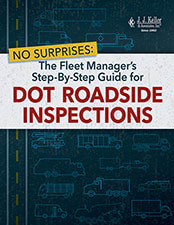 Neenah, WI - The Commercial Vehicle Safety Alliance (CVSA) has postponed the International Roadcheck Event, but carriers need to remember that officers are still conducting traffic enforcement and roadside safety inspections daily. Additionally, the organization is planning on moving ahead with Operation Safe Driver Week (July) and Brake Safety Week (August).
To help fleets improve their drivers' roadside inspection experience, J. J. Keller & Associates, Inc. is offering a fresh take on the roadside inspection process in their new e-book, No Surprises: The Fleet Manager's Step-By-Step Guide to DOT Inspections. Written by J. J. Keller Sr. Industry Business Advisor Tom Bray, this free 24-page e-book explains the regulatory implications of roadside inspections and why carriers need to take them seriously. Bray describes how poor inspections, violations, and out-of-service orders negatively impact operations and safety. He offers industry best practices that carriers, drivers, and maintenance shops can implement to ensure success.
"Since there are over three million roadside inspections per year, the odds are good that your drivers will be inspected," states Bray. "The inspection process, the items checked, and the steps the driver needs to take to get a good outcome are all known and shouldn't come as a surprise."
Tom Reader, director of Encompass and Business Services Marketing at J. J. Keller agrees. "A good roadside inspection is the cumulative result of efforts by the carrier, the maintenance shop, and the driver. This book prepares all three for success, helping motor carriers and private fleets make every roadside inspection count."
J. J. Keller is also offering three Roadside Inspection Checklists, which carriers can freely share within their organization: Carrier Checklist, Driver Checklist, and Maintenance Shop Checklist.
As always, existing J. J. Keller® Encompass® ELD clients have access to the 24/7 Driver Roadside Inspection Hotline and J.J. Keller subject matter experts for answers to their DOT compliance questions.
"We're grateful for the opportunity to give back to the industry during this critical time and are dedicated to working with them to make highways safer for all," notes Tom Reader.
About J.J. Keller & Associates, Inc.
Since its beginning as a one-man consulting firm in 1953, J. J. Keller & Associates, Inc. has grown to become the most respected name in safety and regulatory compliance. Now over 1,400 associates strong, J. J. Keller serves over 600,000 customers — including over 90% of the Fortune 1000® companies. The company's subject-matter expertise spans nearly 1,500 topics, and its diverse solutions include ELogs and mobile technology; training via online courses, streaming video or DVD; online management tools; managed services; consulting services; online and print publications; forms and supplies.
Transportation professionals rely on J. J. Keller's in-house expertise and wide selection of products and services to reduce risk and improve regulatory compliance, performance management, and operational efficiency. For more information, visit www.jjkeller.com.
For more information, contact: