Press Room
News Releases
FOR IMMEDIATE RELEASE (August 6, 2015)
New Program Helps Companies Comply With Training Requirements of OSHA's New Confined Spaces Standard for Construction Activities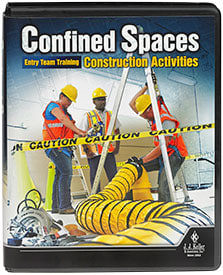 Neenah, WI - Companies now have an effective way to comply with the training requirements of the new Confined Spaces in Construction Standard in order to help keep their confined space entry team safe. J. J. Keller's new Confined Spaces: Entry Team Training — Construction Activities addresses the initial and refresher training requirements of the Standard and covers key information for safely performing construction activities in confined spaces.
The program provides an overview of 29 CFR Part 1926, Subpart AA, and describes the hazards and risks inherent to confined spaces on construction jobsites. It explains the role and responsibilities of each member of the confined space entry team as well as the emergency rescue team, and why someone who is not trained should never attempt a rescue.
J. J. Keller's program also lists precautions that must be taken before a confined space is entered; explains how to recognize the signs, symptoms and characteristic effects of exposure to confined space hazards; and details the steps of a basic confined space entry operation, including the proper use of air monitoring equipment, PPE and communication requirements.
"While the new Standard will undoubtedly bring greater safety to confined space work with its emphasis on training and communication, the Standard alone will not accomplish this," said Mark Stromme, J. J. Keller® workplace safety subject-matter expert. "Training is key. J. J. Keller's new program will help all companies that perform construction activities in their permit-required confined spaces train their entry team, ultimately raising the bar on safety for workers."
Confined Spaces: Entry Team Training — Construction Activities Online Course and Pay Per View formats are now available on JJKeller.com.
The program will also be available in DVD format by the end of August. This version will include the same training content as the Online Course and Pay Per View formats.
OSHA's Confined Spaces in Construction Standard for construction work took effect August 3, 2015. The new Standard sets requirements for practices and procedures to protect employees engaged in construction activities at a worksite with one or more confined spaces. It also requires that affected companies ensure that employees who enter a confined space acquire the knowledge and skills necessary for the safe performance of confined space entry operations.
About J. J. Keller & Associates, Inc.
Since its beginning as a one-man consulting firm in 1953, J. J. Keller & Associates, Inc.® has grown to become the most respected name in safety and regulatory compliance. Now over 1,300 associates strong, J. J. Keller serves over 420,000 customers — including over 90% of the Fortune 1000® companies. The company's subject-matter expertise spans nearly 1,500 topics, and its diverse solutions include training via online courses, streaming video or DVD; online management tools; managed services; consulting services; online and print compliance manuals and instructional publications; E-Logs and mobile technology, forms and supplies.
Safety professionals rely on J. J. Keller® in-house expertise and its wide selection of products and services to reduce risk and improve regulatory compliance, performance management and operational efficiency. For more information, visit JJKeller.com.
For more information, call 800-327-6868