Back to Press Releases
FOR IMMEDIATE RELEASE (February 6, 2020)
Commercial Driver's License Training Providers Advised to Remain Proactive Despite Entry-Level Driver Training Rule Delay
J. J. Keller Offers 35 New Online Courses to Help Meet Theory Instruction Requirements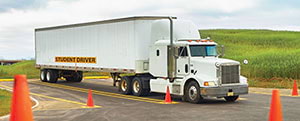 Neenah, WI - Commercial driver's license (CDL) training providers were recently granted a two-year reprieve on mandatory compliance with the Entry-Level Driver Training rule (ELDT) — but experts say that shouldn't put their compliance efforts on pause.
The rule's original compliance date of February 7, 2020, was extended to February 7, 2022. The delay will give the Federal Motor Carrier Safety Administration (FMCSA) time to complete development of the Training Provider Registry (TPR). The TPR is the site a training provider must use to certify it is compliant with all ELDT requirements.
"The requirements are quite detailed," said Jill Schultz, J. J. Keller subject-matter expert. "To provide this training and be listed on FMCSA's Training Provider Registry, a training provider needs to ensure its curriculum, facilities, equipment, and instructors meet all of the ELDT criteria. Setting up this type of program doesn't happen overnight. It takes quite a bit of time."
To help CDL training providers develop a comprehensive entry level driver training program, J. J. Keller & Associates, Inc. has developed 35 new online training courses covering:
Orientation
Control Systems/Dashboard
Pre- and Post-Trip Inspections
Basic Control
Shifting/Operating Transmissions
Backing and Docking
Coupling and Uncoupling
Visual Search
Communication
Distracted Driving
Speed Management
Space Management
Night Operation
Extreme Driving Conditions
Hazard Perception
Skid Control/Recovery, Jackknifing, and Other Emergencies
Railroad-Highway Grade Crossings
Identification and Diagnosis of Malfunctions
Roadside Inspections
Maintenance
Handling and Documenting Cargo
Environmental Compliance Issues
Hours of Service Requirements
Fatigue and Wellness Awareness
Post-Crash Procedures
External Communications
Whistleblower/Coercion
Trip Planning
Drugs/Alcohol
Medical Requirements
Human Trafficking
CSA
Special Rigs
Crossing the Canadian Border
Basic Business Practices
The online training courses will help meet the rule's theory instruction requirements. The courses cover all 30 topics required by the rule, plus five additional topics essential to safe, professional driving. For more information, visit JJKellerTraining.com/207601.
About J. J. Keller & Associates, Inc.
J. J. Keller & Associates, Inc. is the most respected name in safety and regulatory compliance. Since its beginning as a one-man consulting firm in 1953, the company has grown to over 1,500 associates serving more than 600,000 customers — including over 90% of the Fortune 1000® companies. The company's subject-matter expertise spans nearly 1,500 topics, and its diverse solutions include ELogs and mobile technology; training via online courses, streaming video or DVD; online management tools; managed services; consulting services; online and print publications; forms and supplies.
Transportation professionals rely on J. J. Keller's in-house expertise and wide selection of products and services to reduce risk and improve regulatory compliance, performance management, and operational efficiency. For more information, visit JJKeller.com.
For more information, contact: