As of February 7, 2020, drivers applying for an initial CDL, upgrading a current CDL, or obtaining a hazardous materials, passenger, or school bus endorsement will need to complete entry-level driver training.
This training includes both theory and behind-the-wheel instruction, with the instruction provided by an entity listed on a Training Provider Registry (TPR), administered by FMCSA.
Fulfill the new training requirements with J. J. Keller's Entry-Level Driver Training: Obtaining a CDL. The training complies with FMCSA's training rule and features student and trainer manuals.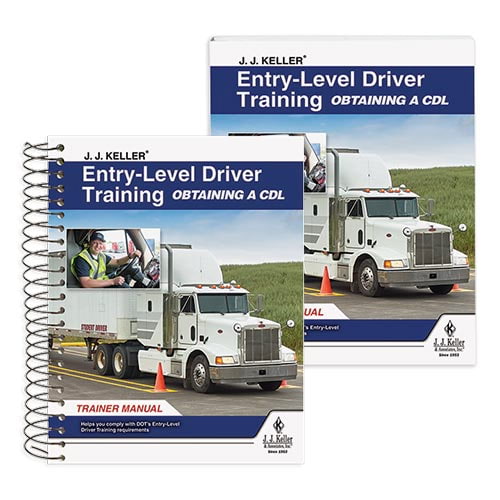 Orientation
Control Systems/Dashboard
Pre- and Post-Trip Inspections
Basic Control
Shifting/Operating Transmissions
Backing and Docking
Coupling & Uncoupling
Visual Search
Communication
Distracted Driving
Speed Management
Space Management
Environmental Compliance Issues
Hours of Service Requirements
Night Operation
Extreme Driving Conditions
Hazard Perception
Skid Control/Recovery, Jackknifing, and Other Emergencies
Railroad-Highway Grade Crossings
Identification and Diagnosis of Malfunctions
Roadside Inspections
Maintenance
Handling and Documenting Cargo
Fatigue and Wellness Awareness
Post-Crash Procedures
External Communications
Whistleblower/Coercion
Trip Planning
Drugs/Alcohol
Medical Requirements
Human Trafficking
CSA
Special Rigs
Crossing the Canadian Border
Basic Business Practices