ARE YOU IN THE KNOW ABOUT VEHICLE MAINTENANCE?
Which roadside inspection violation consistently ranks near the top?
The answer is 393.9 Inoperable Required Lamp.
The Inoperable Required Lamp violation is only one of 36 possible light and reflector roadside inspection violations! In 2022, these 36 violations accounted for 26 percent of all vehicle violations written in 2022.
Vehicle Maintenance CSA BASIC eWorkbook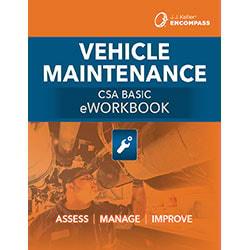 Take action to minimize violations and improve your Vehicle Maintenance BASIC score with the Vehicle Maintenance CSA BASIC eWorkbook. You get best practices and expert guidance, including:
Interactive worksheets based on FMCSA's Safety Management Cycle
Sample policies and procedures
Vehicle Audit Worksheet
Vehicle Maintenance BASIC violations have a high correlation to crash risk and are considered by the FMCSA as one of the critical BASICs to watch, meaning it's not a matter of if, but when, an accident or breakdown will occur.
Download your FREE eWorkbook and talk with a compliance specialist to learn how the J. J. Keller® Encompass® Fleet Management System can help you manage and improve your fleet vehicle maintenance program. Download Now