Free Whitepaper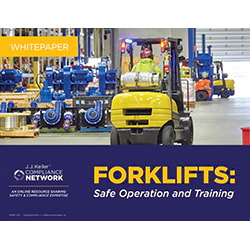 Forklifts: Safe Operation and Training
Forklift safety has seen a renewed focus with the annual observance of National Forklift Safety Day, a revised ANSI lift truck industry standard, and a regulatory agenda item to revise the OSHA standard.
Powered industrial trucks (PIT) continue to be in heavy use throughout industry, as well as a source of severe injuries to workers.
Written by J. J. Keller Experts, this whitepaper provides an overview of OSHA's PIT requirements, including:
Equipment design
Modifications/additions
Safety devices, warnings, and lights
Operator training
Trainer qualifications
And more
Fill out the form to download your FREE whitepaper, Forklifts: Safe Operation and Training.