Free FMLA Whitepaper
FMLA Basics: Getting to Know the FMLA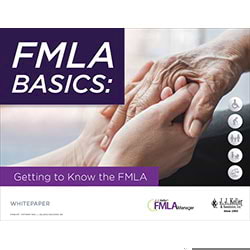 The Family and Medical Leave Act (FMLA) may seem intimidating, but it's imperative that employers fully understand this workplace law and their obligations under it. This whitepaper provides an easy-to-follow overview of the fundamentals of the FMLA, so you can administer leave correctly and with confidence when an employee requests it.
Key topics covered include:
Employee eligibility
Qualifying reasons for FMLA leave
Amount and types of leave
The FMLA process
And more
Fill out the form to download your FREE FMLA Basics: Getting to Know the FMLA whitepaper.