PPE in Women's Sizes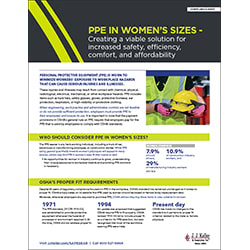 Ill-fitting PPE is not only uncomfortable, but it can also expose the wearer to new hazards. Too often employers pay more for PPE without considering the proper fit for both their male and female employees. By providing PPE that offers a viable solution for ALL employees, you are also creating a safe, respectful, and inclusive workplace.
Fill out the form to download your Free PPE in Women's Sizes Compliance Brief.