UNSAFE DRIVING eWORKBOOK
Assess, Manage, Improve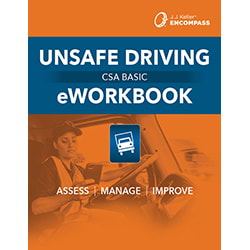 Unsafe driving behaviors by CMV drivers were cited by enforcement over 250,000 times in 2021. Unfortunately, these infractions represent a mere fraction of the total unsafe driving events that happen every year.
The Unsafe Driving eWorkbook can help with:
Practical guidance
Steps for improvement
Interactive worksheets to help you uncover root causes
If you're a carrier with an elevated Unsafe Driving BASIC score, you could experience nearly twice the number of crashes compared to the national average. But you can reverse the trend.
Fill out the form to the right to download your FREE Interactive Unsafe Driving eWorkbook, and speak with a J. J. Keller® Compliance Specialist about how Encompass® Fleet Management can help you bring down your CSA scores.