FREE Drug & Alcohol Testing Whitepaper
Drug Tests Gone Wrong: How to Avoid Drug and Alcohol Testing Mistakes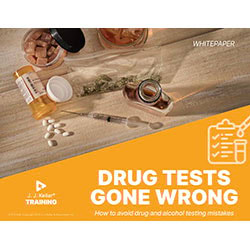 Drug and alcohol tests support a safe, productive work environment. Yet if they're done incorrectly, laws could be violated in unexpected ways. Employers need to be aware of what could go wrong and how to reduce the risk of a costly mistake.
This free whitepaper provides expert guidance to help employers avoid potentially serious errors in their drug and alcohol testing programs. Topics covered include:
Pre-employment tests
Reasonable suspicion tests
Random tests
And more
Fill out the form to download your FREE whitepaper - Drug Tests Gone Wrong: How to Avoid Drug and Alcohol Testing Mistakes.