THE DQ INVENTORY — More Than A DQ File Checklist
Get Drivers Qualified. Keep Them Qualified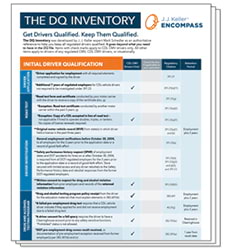 It's always been a challenge to stay on top of driver qualification recordkeeping requirements. That's because it's an ongoing task that includes multiple regulatory areas like driver investigation, drug & alcohol testing, MVRs, and more.
Additionally, if your drivers operate different classes of vehicles, their qualification requirements will vary.
J. J. Keller compliance experts developed the DQ INVENTORY to help you identify which requirements apply to your drivers. It's a fillable form you can personalize for your operation. Download your FREE DQ Inventory today.