Free Whitepaper
Fleet Policies & Procedures For In-Cab Technology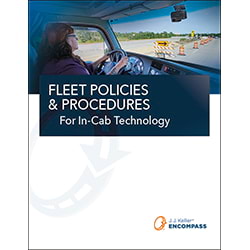 As technology becomes integrated with motor carrier operations, data from a variety of solutions provides important details about driver and operational events.
Appropriate policies and procedures help to define expectations for the use of this data, including how it will be reviewed, analyzed and used in the business.
This free whitepaper provides:
Specific details on how to create policies and procedures;
Set expectations on the use of data;
Sample policies;
Tips on ongoing management and review of documentation.
Fill out the form to download your FREE Policies & Procedures whitepaper.