Download Your Free Copy!
Vehicle Legalization Compliance Brief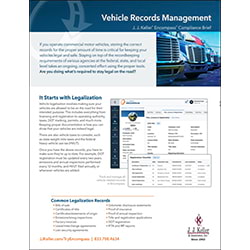 Are your vehicles legal? It takes effort and knowledge of DOT regulations to follow compliance guidelines and maintain accurate records to keep your vehicles legal and safe
Our Vehicle Records Management Compliance Brief provides the details you need to ensure compliance with:
Common legalization documents
IFTA & IRP recordkeeping requirements
Records retention rules
Tips for accurate records management
Electronic recordkeeping benefits
Fill out the form to download your FREE copy of the Vehicle Legalization Compliance Brief and learn how Encompass® Fleet Management can help you efficiently comply with DOT requirements for vehicle recordkeeping.