FREE FMLA Certifications Whitepaper
FMLA Certifications: Challenges & Tips for Employers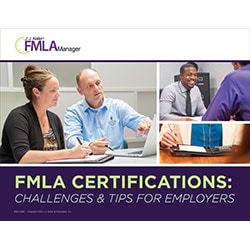 If you administer FMLA, you are already familiar with the challenges posed by FMLA certifications and the need to be familiar with the regulatory requirements behind them to avoid a violation, while still keeping a lid on potential FMLA leave abuse.
Download this free whitepaper to gain a better understanding of the FMLA certification form, such as what a response might mean and what options are available to employers regarding the form and information supplied by health care providers.
Fill out the form to download your FREE FMLA Certifications: Challenges & Tips for Employers whitepaper.