Free Whitepaper
Your Guide to Safe Storage of Flammable Liquids in the Workplace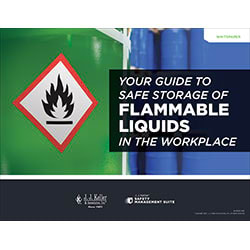 Flammable liquids are used in almost every type of workplace. They are used as fuel in vehicles, as lubricants in industrial machinery, as manufacturing materials, as cleaners and solvents, in paints and disinfectants, and the list goes on. This means many employees are exposed to the hazards of flammable liquids and must be trained to keep themselves and their coworkers safe.
This whitepaper explains how to safely store flammable liquids in accordance with OSHA standards. It outlines essential topics including identifying flammable liquids, Safety Data Sheets (SDSs), container labels, incidental storage, fire prevention and control, and more.
Fill out the form to download your FREE whitepaper, Safe Storage of Flammable Liquids in the Workplace.