Insights on Today's Fleet Manager
2021 Transport Industry Study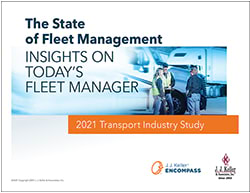 This survey from the J. J. Keller Center for Market Insights discovered that fleet managers are experiencing a significant stress level due to their serious commitment to safety. Sound familiar?
The pressures include:
The importance of having leadership buy-in for safety
Getting drivers to commit to safe driving behaviors
Staying on top of compliance requirements
Download this in-depth study to read about fleet manager concerns. And, talk with a compliance specialist about how Encompass reduces stress, keeps you in compliance, and delivers tangible safety results that make a difference.