Do-It-Yourself DOT Recordkeeping
With J. J. Keller® Encompass Fleet Management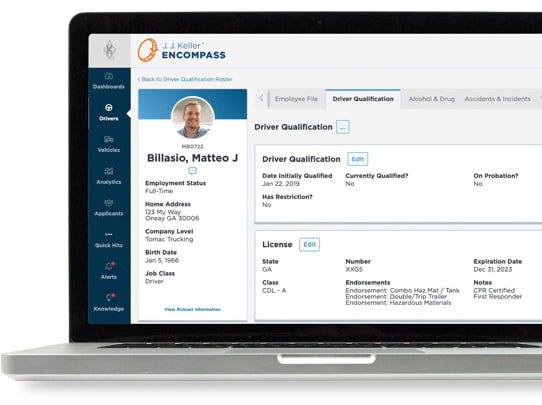 A common challenge that plagues most fleet managers involves maintaining compliance with complex rules and requirements that change frequently.
But, Encompass can help. It's a total fleet management system delivers the features and compliance you need:
DOT Compliant Recordkeeping
Maintain 100% compliance with FMCSA rules:
Driver qualification
Drug & alcohol program management
Hours of service
Vehicle inspections, maintenance, legalization, and more
Prioritized Alerts & Notifications
Real-time visibility and alerts to risks and non-compliance events like out-of-service units and expired credentials.
Better Business Insights
Stay organized and save time with powerful reporting and fleet manager workflows for everyday tasks like hiring, DQ, and vehicle repairs.
Stop stressing, get more done, and improve your DOT recordkeeping process. Fill out the form to explore Encompass with a compliance specialist or call 855-693-5338.